Hire Angular JS Developers
AngularJS platform has gained fame for addressing the complex requirements of modern business through scalable and reliable, browser-based web applications. It remains a robust framework for developing complex and dynamic apps to keep your business stay ahead of the curve. AngularJS is powered by Google's developers and has a capability to handle ever-changing demands of your business while making it ready for the future.
At Semaphore, our talented developers assist you to get the advantage of advanced features of AngularJS framework. We offer flexible engagement models so that you can hire dedicated AngularJS developers for your web project. Our developers and programmers have hands-on experience of working with cutting-edge tools and you can hire our dedicated AngularJS developers for on-site or off-site development.
Why Choose AngularJS for Developing Robust Web Apps?
As a robust, JavaScript MVW framework, AngularJS remains a
performance-oriented, secure, and clean platform for developing customized
web applications. The top features of AngularJS include-
Highly efficient framework
Declarative UI (User Interface)
Advanced security features
Modern MVW architechture
Minimal code
High scalability
Enterprise-level testing process
Optimum user experience
Interesting and interactive web apps
Easy maintenance and large community support
Key Benefits for AngularJS Development
AngularJS is developed and maintained by Google, and it is an ideal framework for developing advanced JavaScript-based web applications. It enables developers to use the existing HTML as the main language. Major benefits of AngularJS app development include-
Quicker development
Higher code re-usability
Improved design architecture
Enables parallel development
Plug-and-play components
Better handling of dependencies
Offers controls to developers
Enhanced management
What Semaphore Offers?
As a leading AngularJS development company, Semaphore has an in-house team of highly skilled developers who can build interactive and engaging frontends in seamlessly performing web solutions. Our end-to-end AngularJS solutions are designed to fulfill your diverse business needs.
Custom Web App Development

Real-time Chat App Development

Custom Angular Development

Portal
Development

UI/UX
Development
Services you can avail
by hiring an AngularJS Developer
Custom Angular Development

Our expert has in-depth knowledge of building secure and scalable applications.

Real-Time Chat Apps

Our team develops lightweight and high-traffic real-time apps to get fully functional apps.

Web App UI/UX Development

We offer both highly intuitive and visually appealing development services.

Node JS Plugin Development

Our developers add custom plugins through world-class development services.

AJAX Development

Our team is committed to use various AJAX technologies like CSS, XML, XHTML and XHR.

Portal Development

We bring idea one-stop solutions in the form of internal and web portal requirements services.
Hire AngularJS Developer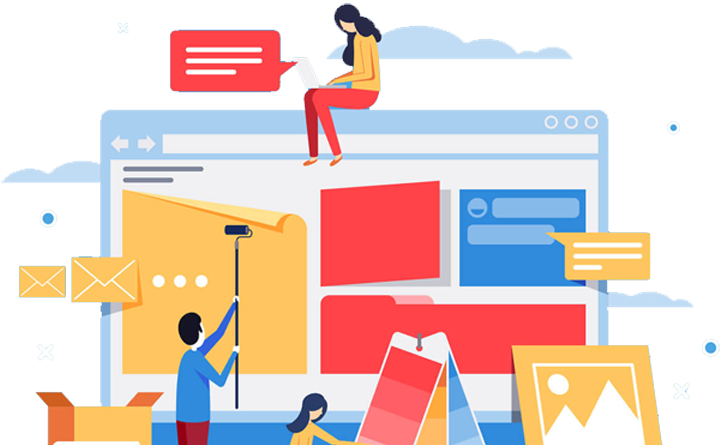 Why Hire Dedicated AngularJS Developers from Semaphore
Our developers have a technically strong skill set for using the latest tools and technologies. They have shown prowess in developing sophisticated, high-end, and well-structured web app solutions.
Developing highly customizable apps
Providing efficient yet cost-effective app solutions
Meeting deadlines with quality assurance
Ensuring confidentiality of project and security of data
Offering extensive testing of apps
Providing flexible engagement models
Frequently Asked Questions (FAQs)
1
Why AngularJS is preferable for business app and web development?
Firstly, AngularJS is developed and supported by Google. Therefore, you can remain assured of the overall functionality and user-friendliness of app and web solutions. Also, Angular has vast community support that can make future modification quick and easy. As a robust platform, AngularJS is capable of meeting your business needs while providing a user-friendly experience.
2
Why should I hire AngularJS developers from Semaphore?
Answer to this question is pretty straightforward. At Semaphore, we strive to meet the client's business needs with innovative solutions. Our experienced developers are ready to integrate technological advancements to bring the best possible solution in a cost-effective way. When you hire AngularJS developers from Semaphore, you can avail a flexible engagement model and get the benefits of cutting-edge tools and technologies. Our experienced developers assist you to take the business to the next level.
3
Which are the key services you provide under the hood of AngularJS development?
E-commerce web development, web portal development, dynamic web application development, and rich mobile application development are just a few names from our array of AngularJS development services.
4
Which are the key facilities you provide when I hire AngularJS developers?
At Semaphore, we strive to build highly customized web and mobile app solutions for our enterprise clients irrespective of the project size. Our dedicated AngularJS developers can build robust and scalable solutions at a reasonable cost.
Here are the key features of our engagement model:
State-of-the-art development center
Latest tools and technologies
Daily and real-time reporting
Efficient communication methods
Flexible hiring models
5
How can I hire AngularJS developers from Semaphore?
Well, hiring AngularJS developers from our company is a simple and straightforward process. All you need to send your requirements and our expert business consultants will suggest you the most suitable engagement model after discussing your requirements.
6
Do you also offer other resources to hire?
Yes. Semaphore provides end-to-end solutions in both web and mobile domains. Apart from AngularJS developers, you can hire Android and iOS app developers, Magento developers, UI/UX developers, WordPress developers, and .NET developers. In brief, we have in-house teams of highly skilled developers to address the requirements of modern business.
Resources
Offshore Development Center

Our Offshore Software Development Center is geared

VIEW ALL