Top Five Reasons Why You Should Integrate Magento with ERP
Enterprise Resource Planning (ERP) aka ERP plays a vital role in organizing and managing various processes in your industry. These days, all major industry sectors have started leveraging customized ERP for streamlining processes and the eCommerce sector is also no exception! When it comes to bringing automation into all the primary processes for enhancing productivity and efficiency in a business, ERP remains imperative in modern enterprises.
Importance of ERP in E-Commerce Sector
The thriving eCommerce sector has already entered into a digital era thanks to evolving technology. As per the recent research report, retail eCommerce sales have reached 4.28 trillion USD in the year 2020 globally. Another report has revealed that by 2023, the eCommerce industry will occupy a whopping 22% share of total retail sales across the world.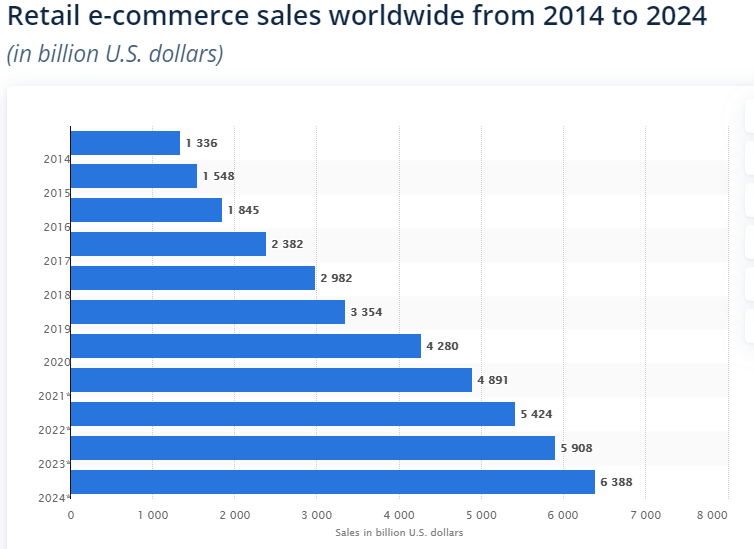 Source
In this pandemic age, people want almost all goods delivered to their doorstep. But then, it is necessary to get the help of advancing technology to meet this ever-growing demand. There, ERP lends a helping hand. It enables eCommerce companies to achieve all the objectives while streamlining online processes and save a lot of time and effort for online retailers. What's more, ERP integration enables retailers to eliminate repetitive processes and save big on litigation costs. Whether it is Cloud ERP, on-premise ERP, or hybrid ERP, every type is beneficial for the eCommerce sector.
Let's go through the key benefits of ERP integration into the Magento eCommerce store.
Major Benefits of ERP Integration into Magento Store
ERP integration into the Magento-based website enables you to synchronize every online order into the ERP system and all the products updated in the ERP system are synced to the online store in real-time. This swift and seamless process enables retailers to manage a large number of orders at once along with the price updates in every product.
Other benefits include-
1. Higher Security– The synchronized data between the ERP system and the Magento eCommerce platform can remain encrypted in the same HTTPS/SSL way as the Magento installation. It makes the data synchronization more secure. What's more, any third-party or hackers cannot intercept and capture this data anyway.
Also Read- How to Optimize Your E-Commerce Product Pages in the Right Direction?
2. Reducing Human Errors– Even if your online store has well-organized processes and skilled resources, there is always a chance for human errors. But, in the eCommerce sector, even the smallest mistake with price or order management or any discrepancy can cost high in terms of reputation. A robust ERP system can eliminate the slightest chance of having a human error. With the Magento eCommerce store, an ERP integration can reduce the burden of data transfer while keeping the business up-to-date. It also saves time and effort. ERP integration also makes operations flexible and automated.
3. More Transparency– Online retailers can generate real-time financial reports on sales and accounts using the Magento platform. It gives them financial transparency for their store. Talking about ERP-Magento integration, retailers can get detailed reports like cash flow, balance sheets, trial balance, and other audit statements. All such reports can give additional financial transparency to the eCommerce business.
4. Rich Experience– With real-time data sync, it is easy for you to add data to the storefront. It enables your customers to track their orders, check whether the products they want are in stock. What's more, you can also manage inventory more effectively and improve customer services. Your staff cannot reply constantly about the status of an order, but by integrating ERP, you can automate the process, and your customers can easily get the answers to their queries.
5. Reduced Inventory Cost– This is one of the biggest benefits of ERP integration in the Magento store. It provides updated sales information instantly thanks to the real-time sync. It means the system users or retailers can plan the purchase effectively. It will reduce the cost of inventory eventually. As any web-based transactions instantly update in the inventory or ERP, retailers can easily keep track of their stock and there is no shortage or overstock condition anymore.
Apart from these top benefits, the ERP integration makes the Magento website more reliable by providing all the information related to sales and inventory in real-time. What's more, the ERP system can send a warning email in case of an error. In a way, your Magento store always remains updated and you can avoid any data loss effectively through ERP integration.
ERP has a bright future ahead. All business organizations tend to embrace this technology to ensure growth and bring automation into mundane processes. It is expected that the global ERP revenue will get a hike of $47 billion in the coming five years thanks to this trend.
Concluding Lines
In a nutshell, whether you want to get real-time information on inventory or improve customer experience, ERP integration into your Magento online store is always useful. Simply put, if you want to grow your online business, ERP integration can offer great help. All you need to consult a reliable Magento development company.
Semaphore Software is a leading offshore software development company with an incredible CMMi 5 rating. Our in-house team of Magento developers has vast experience in building robust online stores for a global clientele. Do you want to make an online store from scratch or customize the existing Magento store? Simply send us an email at info@semaphore-software.com and we will get back to you shortly.