How to Optimize Your E-Commerce Product Pages in the Right Direction?
As predicted by Statista, the US eCommerce sales will grow to 638 billion dollars by 2022. Many eCommerce companies want to take a slice of the pie of a thriving eCommerce market, but find it difficult to increase the conversion rate. Another nail in the coffin is growing competition in the eCommerce industry. In such a scenario, it is necessary to make your eCommerce website ready to attract more people.
Do you know that most eCommerce retailers focus on improving carts and checkout pages for increasing sales, but forget to consider product pages that drive customers to the cart or checkout? Yes, many customers decide whether they want to buy or leave your website by looking at the product pages. Therefore, it is necessary for you to create appealing eCommerce product pages during eCommerce development.
Let's go through the top ten tips to optimize product pages of your eCommerce website. We will start from scratch and discuss the analysis of product pages.
Top Tips to Optimize Product Pages of Your E-Commerce Website
1. Product Page Analysis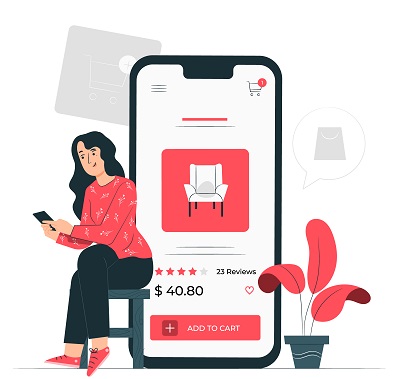 Image Source
You need to identify various elements in your product pages that need more attention for providing your customers or visitors a better experience. A reputed eCommerce website development company assists you by developing a product page with a user-friendly and elegant design and faster loading. You need to ensure that your product is presented impressively through HD photos and compelling content. The product page analysis also helps you find issues that may prevent visitors from converting into customers.
2. Appealing Product Photos
High-quality product photos can work wonders in your eCommerce product pages. Photos give the first impression of the product to your customers. Mostly, people decide whether they should buy the product by looking at photos. Photos should display the product in the right way. White or light-colored background for the product photos can assist you to maintain the consistency of the product. Though eCommerce solutions are user-friendly, your customers cannot touch, feel, or try products online, and therefore, you should show the products from different angles.
3. Make it Mobile-Friendly
More than 82% of online shoppers prefer mobile devices for shopping in the US. Also, Google has announced the mobile-first indexing update. Therefore, you need to ensure that eCommerce developers that you have hired make the mobile-friendly website. If your eCommerce website is not responsive then you might lose traffic and sales. The mobile-friendly website assists people to buy from anywhere and anytime.
4. Detailed Description
Apart from images, a detailed and interesting product description is very important to convey the necessary information effectively. The product content can not only show the features and benefits of the product but also convince prospective customers to buy a particular product. A product page should have details like a relevant title, price, important features/benefits, maintenance instructions, bran information, and the material used in the product. It is better to give a personal touch in the product description.
5. Call-to-Action (CTA)
It is a must-have factor in the eCommerce websites. CTA contributes to boosting the eCommerce conversion rate on the product pages. A clear CTA can tell shoppers that they should buy the product. Phrases like "Add to cart" or "Buy Now" can take the customers to the next level. However, there is no need to try fancy CTAs because they look extremely promotional and people tend to stay away from them.
Also Read- 5 Things to Consider While Choosing An eCommerce Platform
6. Upsell and Cross-Selling
How about placing relevant or similar products on the product page? You can show such products as recommendations to get the benefit of upselling and cross-selling. Shoppers get engaged and encouraged to make more purchases because of this section. This technique can maximize order size and revenue.
7. Engaging Titles
Let the title of your product stand out! You can increase the font size of the title and place it at the top to highlight effectively. A catchy and engaging title with an appealing description can certainly hook the attention of visitors. It is beneficial to get the title and thumbnails right to increase the conversion rate of your eCommerce website.
8. Reviews and Rating
Image Source
Reviews help customers make purchasing decisions. The product page with reviews and rating section looks complete with the real reviews of customers who have already bought and used the product. Prospective customers can go through reviews and make an informed decision.
9. Leverage FOMO (Fear of Missing Out)
One of the most important objectives of the product pages is to create urgency. It can improve the conversion rate and assist you to leverage the benefit of FOMO (Fear of Missing Out). You can come up with a limited-time sale and other promotional offers on the product page. Some eCommerce retailers also add a countdown clock to intensify the feeling among customers that they may lose a great buying opportunity.
10. Display Shipping Cost and Other charges
It is better to show shipping cost and other charges along with the price in product pages. However, it is fair to mention that very few product pages show the pricing and shipping information in a transparent manner. Most companies tend to add the shipping and VAT charges on the checkout page.
Some eCommerce companies also include FAQs and Return Policy for attracting visitors through transparency and openness.
Concluding Lines
Product pages have the most potential in the eCommerce website. You need to take care of them while developing customized eCommerce solutions. These tips will certainly help you come up with the customer-friendly product pages that can increase the conversion rate and your online store's SEO.
Semaphore Software is a renowned eCommerce development company. With a vast experience of providing customized eCommerce solutions globally, we can meet your diverse and complex eCommerce requirements in the best possible way. Do you want to discuss the scope for your online store? Feel free to connect with us at info@semaphore-software.com. Our expert business consultants will get back to you soon.