SharePoint 2016 Features & Overview of the New Version
As a browser based collaboration & document management platform, SharePoint has established a strong repute for itself. Whether it's the Content Management functionality or the Business Intelligence system, it has set high standards,and offers value to its users. With SharePoint 2016, Microsoft has envisioned to offer its customers an opportunity to implement some of the most powerful cloud features that can be enjoyed without going through complete transition. With customer-centric compliance and better user experience, it increases the possibilities for its users. Here are some of the new features and functionalities that would benefit the users.
New App Launcher
SharePoint 2016 has introduced a new App Launcher accompanied by a new user interface to increase the engagement. These have been initiated to ensure users enjoy the same experience on SharePoint as they have been experiencing on Office 365.
Hybrid Cloud Search
This was long awaited, and this new feature offers a unified search experience. What this means is that it brings together On-Premises SharePoint Search and Office 365 Search. This would allow you to fetch results from both of them for the same query. However as a user you would need to use Office 365 Search to get unified results. On-Premises SharePoint Search service would only offerlocal results.
Improved Mobile Touch Experiences
The world is increasingly going mobile and one of the major improvements in SharePoint 2016 pertains to mobile push and information management. This will allow developers to target users in a device-specific manner pushing forward high levels of personalization. The new touch interface is highly engaging and a major improvement from the previous version.
Mini Roles
The Mini Roles feature would go a long way in improving user-experience on SharePoint 2016. As the name suggests it would allow developers to install roles that they want on SharePoint 2016 servers. This would reduce lag and offer a better experience. The role specific servers would also need to be compliant and allow new roles to be added or altered when required.
OneDrive Redirection
Though this isn't a new feature and had existed since SharePoint 2013, Microsoft has made considerable improvements in it. SharePoint 2016 allows you to easily redirect your "My Sites" to "Office 365" subscription's OneDrive for Business hosting purposes. With a single mouse click on your OneDrive, you can now redirect to Office 365 My Site. You don't need to be on the On-Premises site, as was the case with the earlier version.
Easier Hybrid Deployment Automation
If you have had a bumpy experience with hybrid deployment automation in the past, SharePoint 2016's improvements would help you easily setup hybrid scenario. It comes with an all-new hybrid scenario picker that automatically configures the hybrid prerequisites that includes server to server authentication connections that lets you get going easily. With all these new features and functionalities, SharePoint 2016 promises to be all-in-one enterprise tool that offers immense possibilities to any business. If you are planning to hire a robust
SharePoint development agency
, we at Semaphore Software would give you the edge. To discuss your project or seek answers to your queries write to us at
info@semaphore-software.com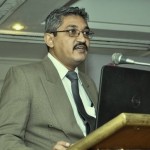 About Himanshu Chudasama
Himanshu Chudasama, an eloquent professional, and an experienced leader, has a deep knowledge in different segments of information technology particularly Web and Mobile Based applications. With a vast experience ranging from project development to management to acquiring and retaining clients, Himanshu Chudasama has acquired both experience and expertise along the way. His love for reading, a strong observation power, and experience ranging in different sectors and industry verticals, help him give out optimum IT driven solutions.