Everything You Need to Know About Made by Google 2019 Event
'Made by Google'- the Tech giant's mega annual event is over with the launch of excellent gadgets and exciting announcements. The event has sent a clear message to the developer's community that Google is going to come up with devices that cover every aspect of daily life. Be it a launch of Pixel 4 duo or Pixelbook Go Chromebook, Google has showcased a line of extraordinary devices in 'Made by Google' event. Let's go through all the actions of this event from the next paragraph onward.
Introducing Pixel 4 and Pixel 4 XL
Source:
Remembering Apple's September 2019 event? Well, the Cupertino Crew had launched the iPhone 11 series in the event. On the same note, Google has introduced the Pixel 4 duo as Pixel 4 and Pixel 4 XL phones. Here is what's new with Pixel 4 and Pixel 4 XL.
The All-New Dual Rear Camera
Image Source
Google has integrated a lot of computational technology in the Pixel 4 camera as compared to its predecessor Pixel 3. A telephoto camera and a dual exposure for brightness and shadows will certainly draw the attention of photo freaks. The real camera comes with Live HRD+, white balance, dual exposure mode and improved night mode with Astrology photography.
Specifications: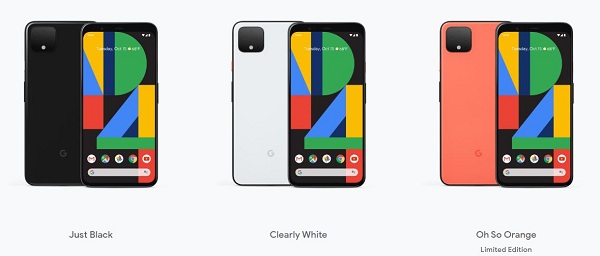 Image Source:
Talking about other characteristics of Pixel 4 and Pixel 4 XL, these two phones are only a millimeter or so bigger and a bit heavier than Pixel 3 and Pixel 3 XL. The device now comes with a 90Hz refresh rate display which Google named "Smooth Display". This will make the animation transition and scrolling experience smoother. It also has Gorilla Glass 5 on both sides and a bigger size gives the Pixel 4 duo more robustness.
Both phones have an IP68 rating for dust and water resistance. The phones have the same Snapdragon 855 processor with 6GB of RAM (Yes, not the latest Snapdragon 855+). Wireless charging makes the charging convenient of the batteries with relatively low capacity. The phone comes in 3 colors Just Black, Simply White and Oh So Orange.
Features:
What's more, you can experience a whole new look and feel in the Pixel 4 thanks to Google's experimental technologies debut. Radar-based gesture control enables the fastest face unlock then any other phone in the market. It also permits users to control the phone with Air Gestures. The user can swipe their hands to change the song, silent calls, alarms, and many other purposes.
Google also unveiled a Voice Recorder app, with a difference, of course! The recorder can not only record the audio but also takes dictation. What's more, the app can perform liver transcriptions of videos that you can search through text searches. It performs well in Airplane mode as well.
Prices & Availability:
The device also comes with privacy improvements, and three months' free subscription of Google One are a few features of the Pixel 4. Pixel 4 and 4 XL start at $799 and $899 respectively. Pre-orders beginning today and will be start shipping from October 24.
Unfortunately, the amazing phone will not be sold in India. This is because the Pixel 4's is powered by a radar sensor & this feature is yet to make it to some countries, including India.
Source:
Google has also launched a more affordable and redesigned laptop – the Pixelbook Go with a starting price of $649. This is said as the cheapest Chromebook from Google to date. As the entire product line was leaked previously, Google focused on explaining the design philosophy of Chromebook Go for 10 minutes in this event. The latest laptop has 'Ultra-Quite Hush Keys' as the term coined by Google itself. Talking about the features, the Google Pixelbook Go has a unique design with a better grip, 13 mm thinness, and barely 2lbs weight. Its battery life is of 12 hours.
Source
Nest Mini is going to replace the Google Home Mini speaker. This cool gadget has a home intercom system and a free Wi-Fi-based calling feature.
Source
Next is Nest Wifi aka Nest Aware with a built-in Hub. You can get 25% better coverage with this updated Wifi than the previous version of Nest Wifi on plugging into the modem. Google has also taken care of the appearance of the Nest Hub. And interestingly, both the packages of Nest Aware include a fee for all the cameras in your home. Nest Aware will be available from early 2020 with $6 and $12 a month packages.
Source
Another important product is Pixel Buds (2nd Gen) with 5 hours of continuous listening time and 24 hours with the wireless case for charging. Google claims that Pixel Buds will keep their Bluetooth connection from three rooms away indoors and up to a football field's length away when outside.
Of course, the biggest thing here is the hands-free access to Google Assistant. The microphone is built-in which allows you to just say "Hey Google" or "OK Google" without touching anything. The design can easily fit with the ear. Pixel Buds costs you $179 and comes in 3 colors "clearly white", "oh so orange", "quite mint", and "almost black". Again, unfortunately, you have to wait till early 2020 to get your hands on this Pixel Buds 2.
Cloud Gaming Service Stadia
Image Source
Stadia is Google's experiment to improve the way we play video games. Rather than rendering video games on a console or a powerful local PC, Stadia games are rendered in the cloud and pushed to your Chromecast, smartphone or browser on-the-fly. It is going to launch on November 19. Yes, the search engine giant knows the holiday's time is the best time for launching the gaming service!
Wrapping Up
Started with the line 'Please take your seats, the show will begin in five minutes', the Made by Google event has opened the doors of new opportunities for Android app development by introducing new devices. It's interesting to see how developers grab them with open hands. At Semaphore, our in-house team of experienced Android app developers strives to provide the most compatible app solutions with Google's newest devices and the latest Android version. As your reliable IT partner, we render services like software development, eCommerce development, web and CMS development to meet the complex needs of modern companies. Send us your requirements to info@semaphore-software.com and our expert business consultants will reach out to you.