How Android 11 Features will Redefine Mobile Application?
What could possibly change in the perfect application or operating system? It's a tough thing, right? But and yes, we are getting a new version for our favourite operating system Android. We are always excited to hear from google about new features and new technologies. Recently, we have started to hear about Android 11 and its new features. Yes, we are getting an update soon with amazing core functions and features.
But we always wonder, what could they bring next? So here, we will discuss all the new features that can be seen in Android 11 and how you can use it in your application.
To make it short, we can say that android 11 is all about Security, UI, functionality, and user-friendly features.
It's very easier for us to say or write, but if you are a developer or you have an android application; that's where the problem starts, right? But not to worry, you can contact us anytime and we will provide you with the easier solution and do all the hard work of android application development and migrating.
First thing first, Android 11 comes with almost 11 new features for the application and phone.
Chat Bubbles – Conversation improvements
What would make easier when you are online and having multiple conversations? Android 11 comes with an option that allows you to arrange favourite chats in the form bubbles and can put it over the display. This functionality was seen earlier in messenger application but now it can be used in any app.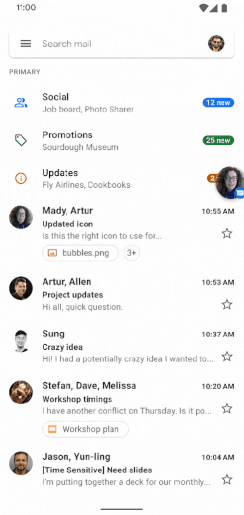 Source
This feature will bring your conversation to light and gives you an option to connect more.
Appearance and display
Google has always aimed to make devices more user friendly and attractive. With Android 11, you can design your cutting edge display with more options and make it easier for you to access multiple features. We all have been wondering for long about the edge display and use of it. This feature should be a solution.
Another functionality you have in appearance and display is dark mode accessibility over many applications.
The new display will consume fewer data and power.
Media Control
I liked this one personally. Android 11 allows you to control media over the widget/ above notification. This feature makes sense because when you are listening to a song, you have sticky notification of the same, but now it is going to stick over the widget so you can focus more on notification rather than media.
Notification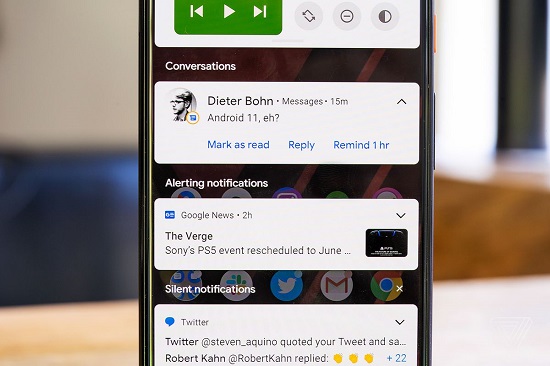 Image Source:
There are many useless notifications and these notifications don't need attention. And also you should not get disturbed by such notification. Android will provide multiple options to manage your notification and how you get notified.
In the present system, we only have the option of muting notification. With Android 11 you will have the power to play with it around.
With this feature, Google shows how much important is your time.
Tip: Keep blinking while using your phone for clean and healthy eye.
Screen Recorder
You always wanted to record your screen for sharing something important, right? Now we need an application to do the same. With a new feature, the operating system comes with pre-built-in screen recorder so we can do what we wanted faster and with a better option for input touch and audio.
share more and create more content!
Installation
I guess there was much time, where you wanted to download a good game but couldn't be installed because of file size or connection. Now, you can simply download an important part fo the application and use it. The rest of the download process will go in the background. Save time and data to do more and interesting work.
5G Visual Indicators
Speed, we always want things done faster. Whenever you are connected to the 5G network, the system will automatically notify you and improve your speed and show you better graphics and media.
Cool, right?
Performance
This is not something new that we didn't know, but mentioning is important. Andriod 11 is developed with latest technologies which improve your phone speed and help you open application faster for better productivity. Google is keen to provide more feature for an application that works on Machine learning and AI.
Sharing
Image Source
Now you can pin all your favourite sharing options/apps/social media apk on fist page so you don't have to scroll over different pages to select an app to share your message.
Simply share more and faster with easy options.
Security
Redefine the core functionality of the unlocking the device with a biometric system and other security functions of the phone. Android 11 comes with new network features, data security, and device core security. This will allow the user to control the flow of data shared with other apps and the third party.
Images and camera
Have you ever noticed that when you are using camera functions, you get little disturbed because of notification and its sounds? Google was very precise about this and added functionality to snooze such notification so you can capture better.
Things you need to consider for making your application compatible with Android 11
Machine learning and AI-based application
Adding notification value to your application
5G compatibility and network optimization
Conclusion
Android 11 comes with advance features to improve user functionalities. With the core development in Machine learning and AI, Google has designed different modules for such application so your Android application performs well in the back end and front end. These features are introduced to the user for better productivity.
If you want your application to perform logically and functionally with android 11, you need to upgrade your technology stack. Our developers are already working on the Android 11 development mode and beta mode to keep our clients ahead.
You can contact us for hiring an android developer and know your options. Our experts are here to help you identify new features and core functions that can be improved and added to the application. Contact us today!