Ministry of Communications & IT, Government of India, Confers Web Ratna Awards 2014 for E-Governance Initiatives
Various Government Ministers and Departments were awarded including Ministry of External Affairs and Ministry of Health & Family Welfare, Government of India for their portals developed by Silver Touch.
March 25, 2015 – New Delhi, India – Web Ratna Awards, instituted by the Ministry of Communications and Information Technology acknowledges and honors various Government departments for making innovations in the realm of e-Governance.
The award ceremony for the third edition of Web Ratna Awards held on 25th March, 2015 in New Delhi, was organized by National Informatics Center (NIC), a premier science & technology institute under the Department of Electronics and Information Technology (DeitY), Ministry of Communications and Information Technology, Government of India. Hon'ble Minister for Communications and Information Technology, Shri Ravi Shankar Prasad graced the occasion and presented the awards to the distinguished winners.
E-Governance initiatives of Government Ministries and Departments across India were evaluated under various categories. From the total 8000 Websites of various Ministries/Governments across India, 315 nominations were received and among them, 3 to 4 recipients were selected for Platinum, Gold and Silver awards in each of the 6 Award Categories. The categories included Citizen Centric Service, Open Data Champion, Outstanding Content, Innovative Use of Technology, Comprehensive Web Presence-Ministry and Comprehensive Web Presence-State/UT.
Among others, the Ministry of External Affairs won the Platinum award in the Outstanding Content Category and the Ministry of Health & Family Welfare bagged the Gold award for the Comprehensive Web Presence-Ministry, for their respective portals. Both these portals have been designed and developed by Silver Touch Technologies Ltd.
The portal for Ministry of External Affairs won the award for publishing outstanding content on the web and adhering to the basic tenets of usability. This portal designed and developed by Silver Touch, is W3C and WCAG compliant and has followed GIGW guidelines. The portal has received Standardisation Testing and Quality Certification (STQC). It has been developed in ASP.NET on MS SQL Server Platform. It is a multi-lingual portal and is also integrated with Google Translator. This responsive portal has more than 25,000 pages, providing complete information and the most recent updates of India from all over the world. It also has a Travel page of External Affairs Minister of India along with the speeches & interviews.
Separate Logins have been provided to all the countries to update information pertaining to India in the portal, which can be viewed in 'Indian Missions Abroad' section. Assistive technology has been used to help visually impaired people in viewing the portal easily. It also allows changing font size and provides high contrast view. There is two way social media integration, displaying social media posts related to the department in the portal and allowing sharing information from the portal to social media. Silver Touch has assigned a dedicated team to manage the content of Ministry of External Affairs' portal.
The portal for Ministry of Health & Family Welfare was awarded for comprehensive web presence in terms of quantity, quality, spectrum of coverage, innovation, citizen centricity and responsiveness. The portal gives news and highlights related to health and family welfare to the citizens. It has a calendar showing various health related days and has been integrated with different statistics that get displayed in the portal. This portal has been built by Silver Touch in PHP on MYSQL Database. It is W3C and WCAG compliant and has followed GIGW guidelines. People with visual impairment can also access the portal using various screen readers. It has the feature to increase and decrease font, set high contrast and select various themes. Silver Touch has assigned a dedicated team to manage the content of this portal as well.
Web Ratna Awards
Web Ratna awards were started as a Government of India initiative in 2009, under the ambit of National Portal of India (http://india.gov.in/) with an objective to promote and uphold the use of World Wide Web (WWW) for enhancing the efficiency as well as the transparency of Government Mechanism and encouraging its speedy transition towards Digital India. These awards felicitate the Government Ministries and Departments that have done exemplary work and taken noteworthy and sustainable e-Governance initiatives on web-based platform. They have contributed to the overall increase in quality and quantity of web presence of various government departments across the country and have also created an atmosphere for further innovation in the web based services sphere.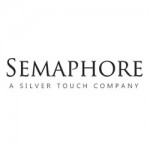 About Admin
Semaphore; A Silver Touch Company has been offering extensive range of services such as Mobile App Development, Website Development, Custom Software Development, Agile Development, Product Development & Support, Legacy Applications Re-engineering, Networking & System Integration services , Data Warehousing & Business Intelligence, Web Design & Multimedia Services and Business Process Outsourcing to the client spread all over the globe. It has been accredited with labels of CMMI 5, ISO 9001: 2008 and ISO 27001 Certification for observing international standards while offering customized solutions.