Top 6 Free Magento Extensions for Better Functionality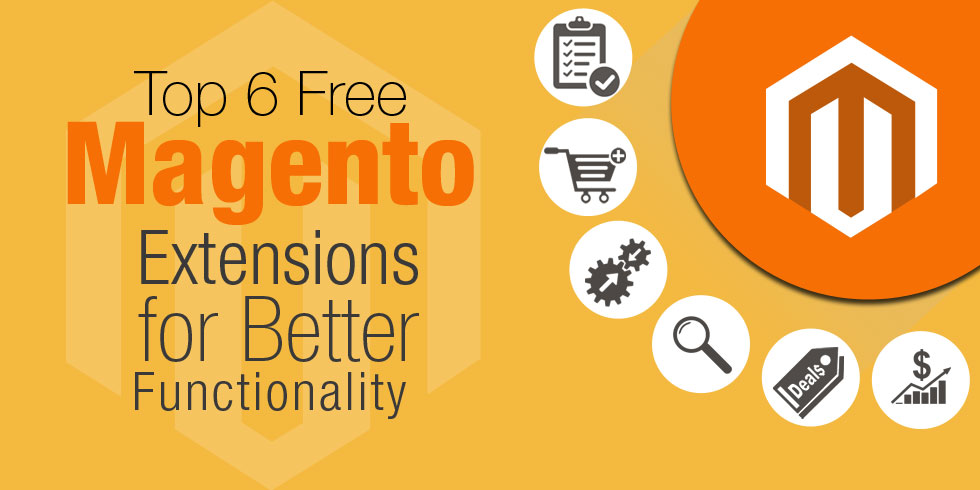 If you have opted for Magento to power your online store, you are in a club of more than 200,000 small & large online stores that use this tool to power their e-commerce dream. But, what has made Magento such a powerful tool that it commands more than 25% of the market share? It is a large repository of extensions that aims to simplify ecommerce development by turning it modular and reducing the concept to product time. This is the reason why so much is happening in the world of Magento extensions development. New extensions are being developed and launched every other day to improve the functionality of the online store.
Small & large companies around the world are busy developing extensions that solve problems businesses are facing, thus taking the customer experience to the next level. Extensions can be broadly divided into two categories – Free and Paid (Premium). While Premium extensions claim to offer you added features and functionalities, there are equal numbers of free plugins that seamlessly offer you the functions you would look for. If you have been scouting for free extensions here are the top six extensions that would improve your store's functionality.
Stock Inventory Management
Inventory management is one of the most important tasks in running an online store. If you are looking for a free extension to ease your task, there is none better than the 'Stock Inventory Management' extension. You would be able to update your product inventory by merely importing .csv file. This ensures your customers have a smooth experience while shopping for their favorite products. Using this extension, admin can update product quantity manually as well as automatically. What makes this tool stand out compared to competition is that admin can schedule a cronjob which would update stock inventory data at set intervals of time.  Get It Now @ Free
Cart Popup
Cart is the most important component of an online store. For your store to be successful the cart should always be visible and more importantly easily accessible. There are a number of free carting extensions in Magento's repository but none work better than 'Cart Popup'. With this extension users would always view their cart items at any time by just one click on Top Cart. Irrespective of the page they are browsing, users would always be able to view and access their cart thanks to this extension. Get It Now @ Free
Prolog Logistic Integration
Synchronization of inventory and order data is important for every online store. This ensures customers always find the product they are looking for and there is no sale on sold-out products. If stores get this wrong it would earn bad reputation and may lose customers. 'Prolog Logistic Integration' extension is the perfect synchronization tool and it offers support to all kinds of shipping methods. All orders placed on your store are automatically transferred to Prolog and the same would be processed through Prolog logistic software. This ensures there is no ambiguity in product ordering process or availability of certain products on the store. Get It Now @ Free
Search By Multiple Keywords
There are many online stores that have a wide range of products but lose out due to the lack of a good search function. While there is little that you can do to influence how your users search for products using keywords, 'Search By Multiple Keywords' can offer them a better experience and lead to increase in conversion rate for your store. It can accommodate search with multiple keywords either separated by comma, or by pressing enter key. It also allows your users to select specific search results increasing the odds of finding the right product. Get It Now @ Free
Deal Banner
How often have you been convinced to buy a product that is listed on a store's banner? Stats show that featured products attract maximum sales in an online store. Just the mere mention of additional discounts or other freebies is enough to drive in additional sales. With 'Deal Banner' extension you would be able to create custom messages at the top of your store and promote your best products. You have the option of using different kinds of messages including HTML messages at the top and these can be made visible or hidden by the admin with a few mouse clicks. Get It Now @ Free
AuthorizeCIM
Protecting customer's identity and their financial data is of prime importance for you and 'AuthorizeCIM' extension protects all credit card related sensitive information. This extension saves such sensitive data on Authorize.net secure servers ensuring that your website is PCI complaint and also 100% safe and secure. Every transaction is processed using a unique transaction ID that allows easy refund in case the orders are cancelled. Get It Now @ Free
To build stellar online store using Magento you should hire the services of a reputable Magento development company. At Silver Touch Technologies we have been offering Magento development services ever since this open source system made its mark in the market. Unlike most other development companies we also develop extensions to meet niche requirements of our clients and have so far developed more than two dozen extensions. We shall create an inspiring online store for you. To find out more get in touch with us at info@silvertouch.com