Top Features of Mobile Apps for Foldable and Large Screen Devices
Slider and flip phones were a big hit once under the leadership of Motorola Razr V3. As technology evolves and the market trends for mobile devices change over the period, slim and compact flip phones have transformed into foldable phones where users can literally bend screens. It looks like magic, but giant smartphone makers like Samsung, Huawei, and even Motorola have made it a reality. As a result, we have entered the age of mobile app development solutions for foldable devices.
The foldable mobile phones are around us for about the couple of years, and we can certainly expect that they have a bright future ahead. We can say so because these phones have grabbed the attention of people worldwide in a short time of arrival. How about having a phone that can be folded into the small size when not in use and can become large when in use? Many enterprises have started considering foldable devices while making a mobile app strategy.
The Global device forecast report has shown that the foldable phones will take a 5% share of high-end smartphones in the market by 2023. Barring a huge price tag, the foldable phones have many user-friendly features. These phones will impact a lot on the mobile app development process in the near future. Let's go through brief information on how the mobile app development company will respond to the growing demand of developing apps for foldable phones.
How Foldable Mobile Phones Impact App Development?
A gradual increase in the number of foldable phone owners globally has a direct impact on the mobile app development process. Customized mobile app development solutions for education, transportation, manufacturing, and other sectors need to consider foldable and large screen devices. A mobile app developed for a small or single screen is completely different from the same developed for both large and small screens. The mobile app development company needs to focus on some key aspects like size, configuration, flexibility, and the like for different screens.
The immersive experience is necessary while people utilize the apps on large screened foldable phones for multiple activities. UI/UX mobile design also plays a vital role in providing such experience. However, this can be complicated at times, and app developers need to pay more attention to designing apps for foldable devices. Companies should choose the right mobile app development company to get the app that can work as per their requirements.
Let's dig deep into the features of mobile apps for foldable and larger screen devices.
Top Features of Foldable Phones' Mobile Applications
The mobile app development company can build feature-rich apps with rich and immersive user experience. Here are key tips to keep in mind for developing apps for large screen and foldable mobile devices.
• Continuity
The app for foldable devices should be capable of transitioning from one to another screen so that users can get satisfied with the experience. Continuity feature can bring consistency and optimum outcome. Mobile app developers build apps with excellent continuity.
• Resizability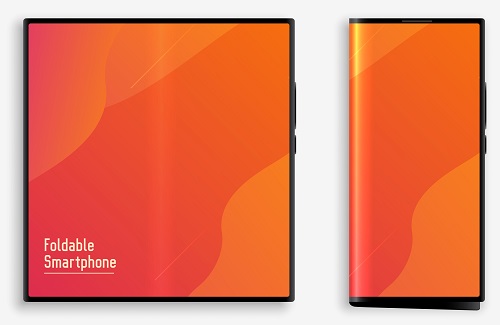 Another crucial aspect is the resizability. Foldable mobile phones are resizable that make them easy to handle and carry. Here, the compatibility factor comes into the picture. The app should work according to the movement and size of the foldable phones.
• Multi-window ability
Image Source
Foldable phones have a multi-window feature. This feature is designed to run multiple apps at once. Users can easily run various applications side by side after expanding their phone. The app should also be capable of running in a way that promotes multitasking with ease.
• Multi-resume
This feature is important for developers to focus on while making the apps. When it comes to app development for foldable phones, the multi-resume feature can help the apps either to run or to get paused as per the user's behavior. For example, the app gets paused when it is not used by the user.
• Support for multi-display
Foldable mobile phones have more features and more than one screen at a time. Here, multi-display can be used in the way developers work on various screens for Chrome OS. It is necessary for app developers to understand how multi-display support can help them make Android apps for foldable devices.
• Screen Ratio
Unlike other mobile apps, the apps for foldable devices must be checked for running on as many screens as possible. Also, these apps should be checked for different screen ratios so that users can conveniently read the content or watch videos. The screen ratio should also be maintained for a seamless experience.
Last but not the least; the mobile app development company has to test extensively for foldable apps. All these features mentioned here must be worked properly before releasing the app for foldable devices.
Concluding Lines
Whether it is the Android app development or iOS app development, developers have to consider various factors before making an app. Foldable phones have shown us a glimpse of a future and developing app solutions for such phones can be an exciting challenge for the mobile app development company. It is fair to mention that your business requirements decide the type of the app, and technological advancements can enable us to address all the needs effectively.
Semaphore Software is a renowned mobile app development company. We have delivered customized, enterprise-grade app solutions to many global clients to date. If you want to come up with a feature-rich app for large and foldable phones, our in-house team of experienced developers is happy to assist you. Just send us your project requirements at info@semaphore-software.com and our executives will get back to you soon.