SAP Business One Mobility – ANY TIME, ANY WHERE
Run your Business at Any Time, Any Place with SAP Business One Mobile Application for Android and iOS (iPhone & iPad)
Today enterprises need rather than want enterprise mobility solutions for their employees. Enterprises are run and managed from anywhere and anytime, and SAP Business One Mobile suit is the right choice. SAP Business One mobile application allows users to manage key processes. SAP Business One mobile application enables flexibility to empower employee productivity with ease and at their operational times.
Challenges Faced by Enterprises without SAP B1 Mobility Solution
No real time data while travelling or when out of the office.
Need to take immediate action on business affecting events.
Achieving customer satisfaction levels.
SAP Business One mobile application has different varieties. Every SAP Business One License purchase is allowed to access core modules of ERP.
Sales Catalogs(Only for iPad)
Activities
Approvals
Alerts
Business Partners
Stock
Price Lists
Sales Opportunities (CRM)
Sales Quotation
Sales Order
Service Contract
Service Call
Reports
Dash Boards (KPI's)
On-Line Help
Key Features of SAP Business One Mobile Application
Manage activities and Tasks.
Approvals and Alerts.
Get the alerts on the specific events and difference from the approved Discounts, Prices, and decided profit.
SAP Business One Mobility allows to Manage Customers and Business Partners.
Allows creating new leads, new customers or vendors.
Get the Real Time Stock, Item data and get product details at just your fingertips.
Check and manage the group wise price lists
SAP Business One Mobility simplifies your Sales activities like Sales Quotation, Sales Orders, and Sales Opportunities.
Manage Service Contract and Process Service Calls [Service call activities from initiate to closing and Track the solution details].
Access built in real Time reports from Crystal Reports.
Add your customized reports on mobile application and send them through e-mail.
Dash Boards- Get access to reports and dash boards, KPIs' used to get the fast information and improves Decision Making.
Business Benefits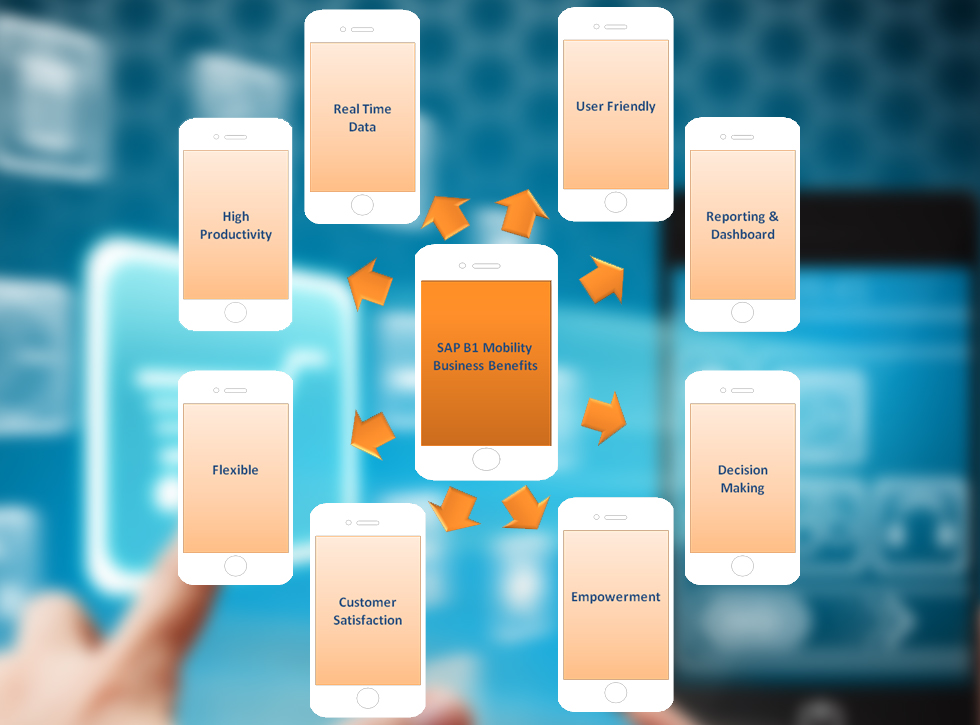 Real Time information at fingertips.
Built in and Customized Reports with Real Time Data.
Empowering Your Employees.
Flexibility through Anytime and Anywhere use of Application.
High Productivity.
Quicker and Faster Decision Making.
Ease in access and User Friendly.
Improves the customer satisfaction ratio by immediate actions.
Reporting and Dash Boards.
SAP Business One mobility solution
helps organization to run their business at anytime, anywhere. SAP Business One mobility solution empowers employees to manage the key business processes. SAP Business One mobility solution helps in quicker and faster decision making which increases productivity.
Silver Touch has expertise in SAP business One Mobile application installation, implementation and deployment. Silver Touch provides end-to-end SAP B1 Mobile Application from installation to post deployment support.
Please call us on + 91 79 26563158 or write us an email on sap@silvertouch.com