Get Free SAP B1 Real-time Support from Experts on Social Media
Are you facing SAP performance issues, and require a SAP performance supporter to resolve performance issues or, performance deviation? Are you challenged with integrating newer systems with your SAP system or, unable to decide the cost centers for your business?
Here's your chance to resolve any issues that you are probably facing with your SAP system.
Silver Touch has launched the #theSAPB1troubleshooter campaign that will help resolve all your SAP issues in real-time, giving you unlimited support. Our SAP experts will stay tuned on all the major social media channels, ready to foot support and resolve your issues within minutes.
Let's have a quick look at how you can pose your questions using this hashtag.
How to Connect with SAP B1 Experts on Social Media?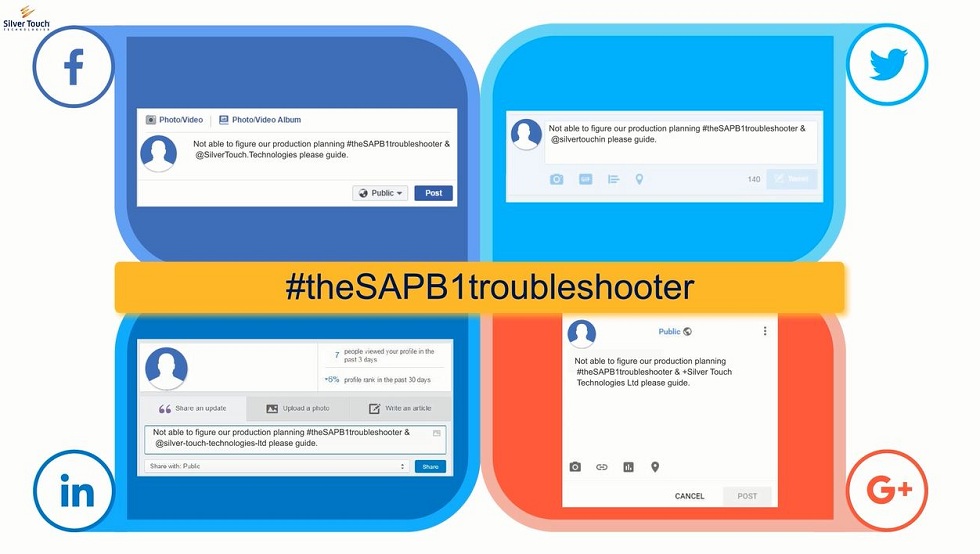 Post your queries on popular social media channels- Facebook, Twitter, LinkedIn and Google+ using the hashtag #theSAPB1troubleshooter. Don't forget to mention us in your query!
Our official Silver Touch accounts are below:
As soon as you send in your query, our SAP B1 experts will get back to you with an appropriate solution over the specific social media channels.
Watch the video below to know more about #theSAPB1troubleshooter Campaign
To know more about our SAP solutions, visit our website and for queries on our services get in touch with us at sap@silvertouch.com