eCommerce- The next 5 years, a BOOM Period
What's driving businesses towards profit? The one word answer to this question is eCommerce. From empowering consumers to allowing them choose the best product from a myriad of products and services, e-commerce has truly furthered business online. It has created a healthy and competitive market for businesses online. eCommerce has moved to the growth stage of lifecycle. Setting up a store is not as difficult as it used to be in the introductory phase of e-commerce. Statistics proves that the boom of eCommerce is yet to come, though we are definitely moving in that direction. The estimated growth of eCommerce is expected to reach 11% by 2018, compared to the 8% in 2013.Moreover, it is projected that online sales will reach a staggering $370 billion in the next couple of years. So what is leading eCommerce towards the boom? Let's take a look at a few factors that will make the industry grow in the next 5 years.
Developing Countries Powering the Boom
While a large number of people living in the developed countries have been shopping online for some time now, the numbers have started stagnating now for these countries. The reason being, developing nations are supposedly taking over. eCommerce is currently booming majorly because of the exponential rise in the number of online stores in developing countries. The developing countries which are leading from the front are China, India, Brazil, South Africa, Saudi Arabia, Turkey, Indonesia, Russia and Mexico (according to an intensive survey by Credit Suisse). According to the Credit Suisse survey, the online retail sales in these countries can reach up to $3.5 trillion and impact multiple sectors, such as retail, finance, security and technology. China has the maximum number of online shoppers, closely followed by India. These two countries are literally taking online shopping to the next level. In both these nations, the gen next has been found to be shopping online. In China, most of the online shoppers are below the age of 30 years. The situation is somewhat the same in India as well.
Rapid Rise of Internet Access
One of the primary reasons why eCommerce is likely to grow exponentially in the next five years is because of the rapid access to the Internet. Currently there are approximately 1 billion Internet users in the developing countries itself, specifically China and India. Moreover, the fact that Internet can be accessed easily on smartphones has further popularized online shopping. In India, two-thirds of Internet users' access online shopping apps through their smartphones while in China, nearly three-fifths have Internet access through smartphones.
Easy Availability
The boom of eCommerce is inevitable because of the innumerable options available in front of the essentially young consumers. The urban population in the above mentioned developing countries is not only shopping gadgets and books online, but also clothes, footwear, and jewelry. Recently, there has been a surge in the number of online grocery store, which aim at making the lives of shoppers easy. If you are also geared towards the booming eCommerce market, get in touch with us at Semaphore Software, one of the leading
ecommerce solution providers
. For any kind of ecommerce development, get in touch with us through
info@semaphore-software.com
 and discuss your plan with us.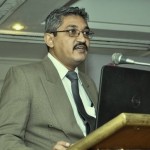 About Himanshu Chudasama
Himanshu Chudasama, an eloquent professional, and an experienced leader, has a deep knowledge in different segments of information technology particularly Web and Mobile Based applications. With a vast experience ranging from project development to management to acquiring and retaining clients, Himanshu Chudasama has acquired both experience and expertise along the way. His love for reading, a strong observation power, and experience ranging in different sectors and industry verticals, help him give out optimum IT driven solutions.