Open Source Tech Trends for 2016
The open source web development ecosystem has been on a roll ever since WordPress and the likes introduced users to the new age of web development & management. Small businesses and institutions have been the biggest beneficiaries of open source development. It has allowed them to create their online footprint. Like always 2016 promises to be an exciting year with the emergence of new trends, and a sole promise of taking web development to a completely new level. Here we will take a look at some of the open source trends you need to watch out for in 2016.
Entry of Niche CMSs
So far web development has been dominated by the Big Three – WordPress, Joomla and Drupal. While these boast of their inherent benefits, we are witnessing the increasing popularity of niche open source Content Management Systems which are way ahead of their competitors owing to the ease-of-use factor. Ask any web development company and they would say that in 2016, this trend will see an explosion as many businesses are opting for niche CMS tools.
Localization
With web development making deep penetration around the world there is an increased focus on localization. Most open source platforms are coming out with support and services in newer languages and this trend would gain momentum in 2016. Popular themes and plugin support are increasingly being made available in different languages. We will be witnessing a surge in Machine Translation, which has undergone huge improvements in the recent years.
Mobile Would Become Priority
Mobile not only contributes to the bulk of web traffic, but is also the future of web browsing. Most open source platforms have now assigned priority status to this platform. No here we aren't talking about responsive design alone, but an ecosystem that allows developers to publish and manage their websites using mobile devices.
API Based Development
With a focus on mobile devices, most open source projects are slowly promoting development practices based on APIs. This will help businesses offer app based backend support to their users, and improve the site functionality offering an engaging experience to the users.
Migration To Cloud
Cloud based application management has picked up steam in the last two years. In 2016, we will see open source platform make this transition as more website owners would be willing to migrate to the cloud, as cloud offers higher flexibility at reduced costs, along with site management. Developers are increasingly realising the benefits of migrating to the cloud.
Measuring KPIs
Ease of publishing and managing content was the real driver behind open source content management systems so far. 2016 would mark a major shift in the ecosystem as users are equally interested in measuring their content's performance. So far analytics plugins have done the job for the website manager, but going forward we would see integration of real-time analytics that would help website owner measure KPIs within the CMS itself. To make the most out of these trends, you need to hire the services of an agency that has expertise in open source development service. At Semaphore Software we are the leading
open source web development company
in the world catering to small and large clients alike. Write to us as
info@semaphore-software.com
 to discuss your project.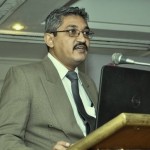 About Himanshu Chudasama
Himanshu Chudasama, an eloquent professional, and an experienced leader, has a deep knowledge in different segments of information technology particularly Web and Mobile Based applications. With a vast experience ranging from project development to management to acquiring and retaining clients, Himanshu Chudasama has acquired both experience and expertise along the way. His love for reading, a strong observation power, and experience ranging in different sectors and industry verticals, help him give out optimum IT driven solutions.