Grow your store on Online Marketplace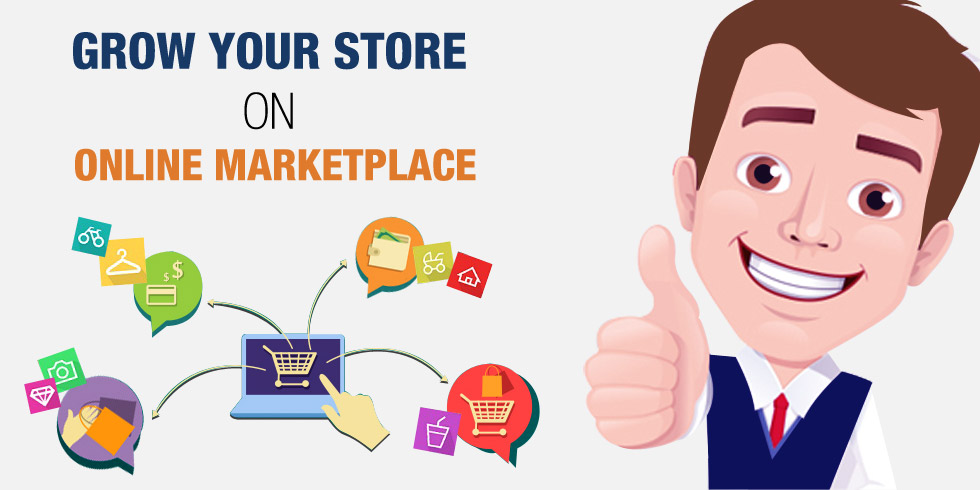 Recent statistics reveal that e-commerce businesses have grossed over a trillion USD, with over a billion users claiming that online commerce is definitely one of the most lucrative ways of conducting business efficiently. The expansion of internet has led to the transformation in the way trading and store transactions are being conducted in the present business scenario.
It is very important for businesses to choose the right methods and channels to conduct their business. Amidst these different channels, online marketplace has created its own space. It offers to be an excellent and reliable option for retailers to market and sell their products.
What is an Online Marketplace?
Ecommerce marketplace is basically a website that aggregates product information from multiple sellers, thus enabling users to browse and compare products from the different sellers listed on this marketplace. The marketplace owner strives to attract customers, whereas the online merchants manage their products and sell them directly to the customer.
How Does an Online Marketplace work?
Products are managed on behalf of the listed merchants by the online marketplace
Shoppers browse & purchase the products available at this marketplace
The online marketplace then places the order for the products with the merchant who is in possession of the product
The merchant processes the purchase order & supplies the item
The online marketplace charges the listed merchant a percentage of the overall revenue, or in some cases, based on their product category or monthly subscription fee etc.
Online Marketplace Pros & Cons
Pros
Cost of managing the website will not be headed by the retailers.
Website traffic and advertisement will be handled by the marketplace owner.
Offers a variety & all-in-one aspect of the marketplace which helps draw in many customers.
Retailers can gain repeat customers or business by offering satisfactory service & quality products.
Cons
Fees are deducted as a percentage of the sale that goes through, and can vary from site to site, and even category to category
No control over the look & functionality of the store
Choosing a Marketplace
As a retailer, you should ideally study the products, and research for a suitable market where you can channelize the sale of your items. It is also important to understand the individual market or marketplace. Each marketplace has its own system, pricing and limitations. So, it is advisable that you opt for more than one marketplace that suits your requirement. Few online marketplace giants like Amazon, Ebay, Etsy, Newegg, Flipkart etc are ruling the ecommerce market currently.
Starting up a Marketplace
If you are looking to build an online Market Place, and act as a facilitator to the retailers to uplift their sales, then strategizing your product segments, retailers, policies etc in right way with optimum market research is a must. You should also have a strong and reliable solution for the online store. Nowadays, the e-commerce market is growing immensely bringing a stiff competition among the different solution providers. Amidst the different e-commerce solutions, Magento has been quite successful and reliable in creating excellent web store solutions. Its extensive features, flexibility, large community and availability in Enterprise & Free Open source is the main reason it is chosen as the solution for a majority of online stores. Magento easily suffice the needs for e-commerce website as well as online market place proving its versatility in this competition.
Win for All
Marketplace Owner – Drop shipping allowing a zero stock policy
Retailers – Full focus on product development and quality services
Customers – Gets access to a wide range of products under a single hood, along with the comparison facility.
Semaphore Software is a leading eCommerce solution provider which offers customized solutions designed to meet your business needs. Get in touch with us via info@silvertouch.com to know more about our solutions and experience