Key Strategies That Aid Mobile App Testing
Mobile app testing is critical to ensure your application can beat competition and earn positive response from your target audience. It is at times more expensive and time consuming than the development itself. A half-baked app not only acts as a turn-off for the users but can also severely hurt your reputation in the market. In this short write-up we take a look at the key strategies that would aid mobile app testing.
Taking Fragmentation Along
Mobile market is fragmented and there are multiple devices running on the same operating system. While tiding over this challenge may be easy with iOS, Windows and BlackBerry powered devices, but Android poses the biggest test. With different Operating Systems and devices having their own capabilities your mobile app testing strategy has to take this fragmentation along in its stride. Each app has to be tested for multi-platform and multi-device compatibility.
Using State-of-The-Art Tools
It goes without saying that you need to use the best of testing tools to ensure your apps adhere to the best practices and conventions in the industry. In the past apps weren't complicated but with increased competition we are seeing new levels of sophistication in apps and to test these you need to make use of the latest tools. While free to use testing tools sound great, they may not always help you carry out the most comprehensive testing.
Product Lifecycle Testing
Updates and upgrades have become a part of any mobile app's lifecycle. Sometimes these updates are necessitated by growing consumer expectation while on other occasions the development of Operating Systems and devices force developers to come up with new features and user-interface. Thus app testing is a continuous process and should be aimed at refining user experience and maintaining the competitive advantage. This also allows you to review your app constantly and know whether it is able to keep up with the change in the market environment.
Physical Devices versus Emulators
Most testing happens on emulators given they are highly cost-effective and allow you to expedite the entire testing process. They also allow you to test the apps in different kinds of devices and environments. However there is no alternative to testing the apps on physical devices as these allow you to experience the features and functionality of the app in a real environment. Ideally, your strategy should involve testing the app on emulators in the early stages followed by physical testing.
Don't Ignore Network Connectivity
One of the mistakes that many testers make is that they completely ignore network connectivity while testing the app. Majority of the users won't have access to high speed network 24/7. If you app has not been tested for limited connectivity or network with high latency, you may not be able to successfully create an app for all network situations. It is thus important to identify the target audience and the kind of connectivity they are supposed to have and test your app in that kind of environment. Businesses and mobile app development companies are finding it increasingly difficult to maintain quality pool of in-house testers. Outsourcing this task to specialized
mobile app testing solution provider
offers access to seasoned testers and state-of-the-art testing tools. At Semaphore Software, we offer comprehensive mobile app testing solutions. To know more, write to us at
info@semaphore-software.com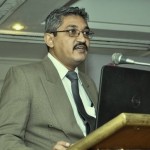 About Himanshu Chudasama
Himanshu Chudasama, an eloquent professional, and an experienced leader, has a deep knowledge in different segments of information technology particularly Web and Mobile Based applications. With a vast experience ranging from project development to management to acquiring and retaining clients, Himanshu Chudasama has acquired both experience and expertise along the way. His love for reading, a strong observation power, and experience ranging in different sectors and industry verticals, help him give out optimum IT driven solutions.