How to Simplify your Mobile App Development Process
The exponential rise of the smartphone market not only in the developed but also developing nations, is proof enough that businesses are scurrying to meet the increasing demand and optimize their revenues. With the rise in mobile application development adoption, it is time that mobile app development services plunge onto the available opportunity. The increased need to boost productivity and agility has raised the all-ready risen stakes. In order to speed up delivery and ensure that productivity of apps isn't challenged, it is important that businesses approach the entire realm of mobile app development from a simpler perspective.
Keep It Sweet and Simple
App developers often get carried away with their development process. As a result, the apps they create look overtly complex with a lot of sophisticated tools. The problem with going over-board with mobile application is that, most often, such complex apps are under-utilized by end-users because they do not have the skills to understand the exact purpose of the tool. This is the main reason why businesses must stress on getting the basics right and making simpler tools popular among the users. Developers must take advantage of online tools, open source software, and numerous cloud services to take their apps to a wider audience.
Relying on a DIY Approach
The "Do It Yourself" approach is becoming increasingly popular in the mobile app development circuit. By DIY approach, it is meant that entrepreneurs and end-users can modify an app for themselves and their peers using prescribed resources. The DIY approach has allowed numerous professionals who have adequate knowledge about their business domain but do not possess any coding skills to develop apps necessary to boost their business. This approach has empowered such people to tweak apps the way they want to. Naturally many businesses are warming up to the DIY approach as it increases the user domain of an app. In other words, it can be said that the DIY approach has make it simpler to engage with end users and meet their requirements on a more personalized space.
Easier Mobilization of Apps
Ultimately the purpose of releasing a mobile app and working on its upgraded version is to reach more users. Whether it pays dividends in the form of increased revenue or simply boosts the visibility of the company, it is important that businesses develop apps that meet user requirement. In order to simplify the development process, it is important to take into consideration the following factors –
Exact requirement and purpose of the app
Defining the goal of the app
Designing an easy-to-use user interface,
Designing back-end APIs for ease in data transfer
Strengthening the security features
Understanding the functional and non-functional requirements
Deciding on the target operating system and devices where the app can run smoothly
Planning the testing of the app
Setting up a maintenance programto further improve the app after its release
Undoubtedly, many points in the above list will require time-consuming efforts from the developers. But in order to make an app run smoothly and also to simplify the process, it is important that a step-by-stepapproach is adopted. Semaphore Software is an established
Mobile App Development Company
. Get in touch with us via
info@semaphore-software.com
 to discuss your mobile app requirements.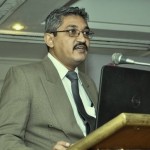 About Himanshu Chudasama
Himanshu Chudasama, an eloquent professional, and an experienced leader, has a deep knowledge in different segments of information technology particularly Web and Mobile Based applications. With a vast experience ranging from project development to management to acquiring and retaining clients, Himanshu Chudasama has acquired both experience and expertise along the way. His love for reading, a strong observation power, and experience ranging in different sectors and industry verticals, help him give out optimum IT driven solutions.