Government of India launched the 'Comprehensive Integrated Software for Technology Upgradation Fund Scheme'
The Hon'ble Minister of State for Textiles (Independent Charge), Shri Santosh Kumar Gangwar introduced the software that will help automate the subsidy claim process for the Indian Textile and Jute Industry.
Apr. 09, 2015 – Mumbai, India –
The Hon'ble Minister of State for Textiles (Independent Charge), Shri Santosh Kumar Gangwar launched the Comprehensive Integrated Software for Technology Upgradation Fund Scheme (iTUFS) in Technotex India-2015, held from 9-11 of April 2015 at Mumbai, India. The online web based system (
http://www.itufstxcindia.gov.in/
) will help to automate and manage the various schemes offered by the Ministry of Textiles to the textile and jute industry. The software has been designed and developed by Silver Touch Technologies Ltd. and aims to bring transparency in the entire subsidy claim process. Separate logins have been provided to the Textile and Jute Companies (Beneficiary), Ministry of Textile (MOT), Textile Commissioner Office (TxC), Lending Agency and others to provide the online application and claim status to all the stakeholders. The textile and jute companies can submit new applications for availing subsidy under prevailing scheme. The application then goes for verification to different stakeholders, with the Ministry of Textiles finally releasing the funds, after receiving verification from Textile Commissioner Office. The TxC generates a Unique Identification Number (UID) through which the beneficiary can track UID Application/Claim Online. The beneficiary gets SMS and Email notifications at every stage. The Textile Commissioner Office and the Ministry of Textile can get on-demand query based reports. The solution has been developed on ASP.NET framework 4.0 and uses the Microsoft SQL Server 2012. Silver Touch takes pride in successfully delivering the project within the stipulated time.
About Silver Touch
Silver Touch Technologies Ltd. an offshore web development company and a global IT solution provider, offers a wide range of IT services focusing on Software Development, E-Commerce, Web Design & Development, Search Engine Optimization, Mobile Application Development, IT Infrastructure Management, System Integration, Network Management, Portal Development etc. Accredited with CMMi5, ISO 9001:2008, ISO 27001 and ISO 20000 certifications, it delivers comprehensive software solutions and services of utmost quality by adopting the latest technologies. Headquartered in Ahmedabad – India, it has business development centers at various locations in India including International Centers in US, UK, Australia, France, Sweden and Germany. Having served a broad spectrum of industry verticals, it has bagged many prestigious awards. For more information, visit us at 
www.silvertouch.com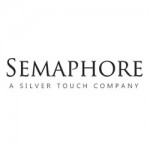 About Admin
Semaphore; A Silver Touch Company has been offering extensive range of services such as Mobile App Development, Website Development, Custom Software Development, Agile Development, Product Development & Support, Legacy Applications Re-engineering, Networking & System Integration services , Data Warehousing & Business Intelligence, Web Design & Multimedia Services and Business Process Outsourcing to the client spread all over the globe. It has been accredited with labels of CMMI 5, ISO 9001: 2008 and ISO 27001 Certification for observing international standards while offering customized solutions.