Magento 1 to Magento 2 Migration- Top Reasons and Aspects to Consider
One of the major reasons for the growing popularity of the Magento platform is it keeps on updating to meet the complex and diverse challenges of the eCommerce sector. The Magento development services are designed to implement all the improvements and updates in your eCommerce store. Here are key reasons, benefits, and considerations to help your existing Magento 1 store switch to Magento 2.
Why should you migrate your existing store from Magento 1 to Magento 2?


The Magento Company will not support Magento 1 from June 2020 onward. It means that out of over two hundred nine thousand live stores, only those stores will have no risk of running onto an unsupported software that have migrated from Magento 1 to Magento 2. Stores that have not updated by June 30.2020 will not get any security updates from Magento. It can increase the risk of cyberattacks significantly in these stores.
Some of the leading eCommerce companies have already switched their existing Magento 1 store to Magento2 because of security risks. Magento 2 offers a lot of benefits as compared to its predecessor Magento 1. These benefits can make a difference in business operations over the period. Here are the key benefits of Magento 2 over Magento 1.
What are the major benefits of migrating your store to Magento 2?
1. Better Performance
Some of the features and functionality make Magento 2 superior to Magento 1. For example, Magento 2 accompanies an improved indexer that assists the platform to increase the speed of query performance. Also, Magento 2 uses Varnish Cache technology to simplify the caching of requests. Magento 2 has performance improvements and more scalability because of
Improved web pages that provide faster delivery
Better server response times for site activities
Enhanced proficiency in backend operations
Enhanced database flexibility to deal with peak hours or days
The best example of how migrating to Magento 2 can help you improve online business processes is of Graham & Green eCommerce store. This British furniture company migrated its eCommerce store from Magento 1 to Magento 2 in the year 2018 and got the reduced Page Load Time (PLT) by 43.5% and a higher mobile conversion rate at 91.73%.
2. Improved Security
In today's challenging business scenario, no company can afford to skip the data security aspect. Magento 2 has kept the focus on security while making information handling safer than Magento 1. Magento development services can assist you to fulfill every crucial requirement for offering your customers a secure checkout process while keeping their valuable data safe.
Password, 2-factor authentication, unique Admin URL, and a dynamic backup plan are some of the key security enhancements of Magento 2.
3. Enhanced Checkout Process
Magento 2 provides a simple and safe checkout to your customers. It follows the approach to recognize all the visitors as guests to eliminate the necessity to fill up the registration form for users before checkout. Also, Magento 2 has an active shipping rate based on the country or postal code. What's more, you can readily integrate the payment method as and when necessary in Magento 2.
Magento 2 checkout process also enables you to provide a summary of shipping information to your customers. It certainly improves the customer experience by reducing the checkout hassle and time. Cabinet.com, a US-based kitchen cabinets company, has successfully reduced the average checkout time by 8 seconds by using Magento 2.
4. Mobile-Friendliness
Unlike Magento 1, the Magento 2 version offers mobile-friendly designs to provide the perfect checkout experience to smartphone users. The Magento 2 admin panel is touchscreen-friendly and you can manage your store through a mobile phone or a tablet with ease. Your website's visitors will find it easy-to-use and easy-to-navigate on their handheld devices.
5. Advanced Reports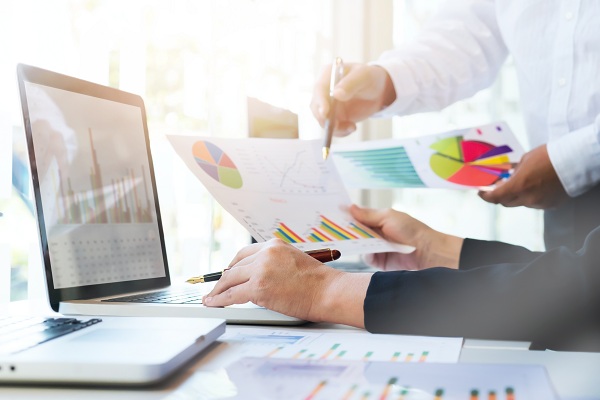 New reporting features in Magento 2 offer 20 reports to its users through the web interface. You can have insightful information on three critical segments- orders, customers, and products to make informed decisions in real-time. Magento 2 has a dynamic reporting feature that enables you to manage the business operations more effectively.
Also Read- How to Find Best Platform for E-Commerce Website Development
Magento 2 migration has three main components- Data, Extensions, and Themes. It is advisable to hire Magento developers to take care of all three aspects and make the most of Magento 2.
Which are the key components of Magento 1 to Magento 2 migration?
1. Data
The Magento 2 Data Migration Tool facilitates users to create a path for moving data to Magento 2 securely. But then, the data migration needs a lot of time and you need to take the assistance of Magento development services. The Magento developers follow different steps mentioned in the guidelines to migrate elements like product information, order data, promotional data, customer information, and store configuration-related data.
2. Extensions
The Magento marketplace has many extensions available for Magento 2. You can enhance the functionality of your existing store by integrating these extensions. Some of the useful extensions are SEO Suite Ultimate for SEO campaign, Abandoned Cart Email for reducing abandonment rate, and customer segmentation for improving customer services.
3. Themes
Magento 2 has many responsive themes to enable the eCommerce merchants to offer a personalized shopping experience along with a seamless performance. Some of the examples of such themes are- Instagram theme, Couture Fashion responsive theme, and Rope responsive theme. What should you keep in mind while migrating from Magento 1 to Magento 2?
Once you have made up your mind to switch your Magento 1 store to Magento 2 store, you can consider these recommendations before initiating the migration process.
Take backup of your existing Magento store
Create a clone/copy of your Magento 1 store
Never use the live store for migration
Delete unnecessary items from your existing store
Check whether your current store is compatible with the Magento 2 from the perspectives of themes, extensions, and custom codes
Migrate all the data from the cloned Magento 1 database
Remove outdated data from the database. You can consider the removal of logs, recently viewed products, etc.
Hire Magento developers from a reputed Magento web development company
Over 56 thousand Magento sites have switched to Magento 2. It is inevitable for the rest of Magento 1 website owners also. So, it's time to act! Just do not wait till June 2020 and make your Magento store ready for the future, today!
Concluding Lines
Apart from improved checkout and enhanced performance, the migration from Magento 1 to Magento 2 is necessary to ensure the safety of your online store against any possible threats and vulnerabilities. You can hire Magento developers to keep the migration process in line with Magento guidelines. Developers can plan every step in detail to make the migration as smooth as possible for your store.
Do you want to switch your existing Magento 1 store into Magento 2 store? Our experienced Magento developers can help you. Just send us an email at info@semaphore-software.com and our expert consultants will get back to you soon.