The Top 17 Essential Business Apps for Android
2014 has been a great year for Android as some brilliant apps were released including re-releasing of most of its apps with updated UI using Material Design. Android apps are popular in businesses and boardrooms for making corporate life easier. They make your workday more enjoyable and productive. There are many such fantastic Android apps that are not only essential to helping run your business successfully but also assist you in day to day official tasks like taking a note of ideas, creating and editing word files, keeping record of your important business documents, conversing with clients and colleagues across the globe, taking note of important meetings including setting reminders and many other routine tasks!! We run down a list of few essential and most useful Android apps for your business.
1) OfficeSuite Pro
OfficeSuite is one of most feature-rich business apps that help you to view, create and edit Word, Excel and PowerPoint documents on your Android devices. It supports PDF files including exporting to PDF. It has various formatting features including easy sharing. This app also makes sharing via Cloud services like DropBox, Google Drive etc. possible with facility to share over email, Bluetooth as well as Wi-Fi. Integration with Cloud services allow you to take back up of your work. The Integrated File Browser gives easy access to local and remote files. You can thus carry on with your work from your phones or tablets while on the move.
Get it on Google Play
2) PrinterShare Mobile Print
PrinterShare lets you print documents (Word, PowerPoint & Excel), PDF files, photos, emails, attachments, web pages, content from phone memory and cloud service providers directly from your Android devices via WiFi, Bluetooth, USB or internet. It allows you to configure print settings including paper size, number of copies, print resolution, one-sided or two-sided printing and more. You will not be required to locate or transfer files to a PC, thus allowing you to take a print out of your important documents and files from any nearby printer. 
Get it on Google Play
3) Evernote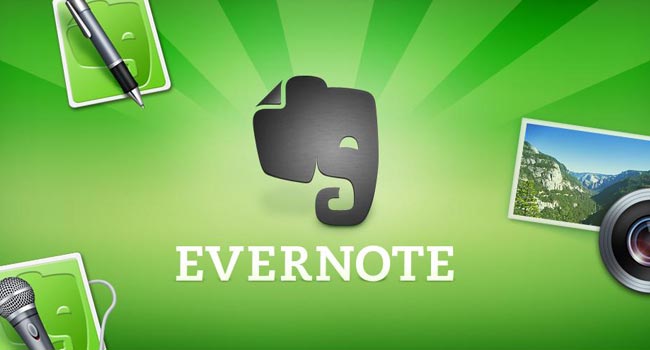 Evernote is an efficient note-taking app for managing and organizing your day-to-day life as well as your business. You can enter notes manually or even dictate, create to-do lists, schedules, edit notes, snap photos and more. It also allows sharing notes with friends & colleagues and makes the text searchable from any phone or tablet. The notes stored can be synced across different devices. You can thus capture your ideas and get its access from any place of the world!! 
Get it on Google Play
4) Microsoft Remote Desktop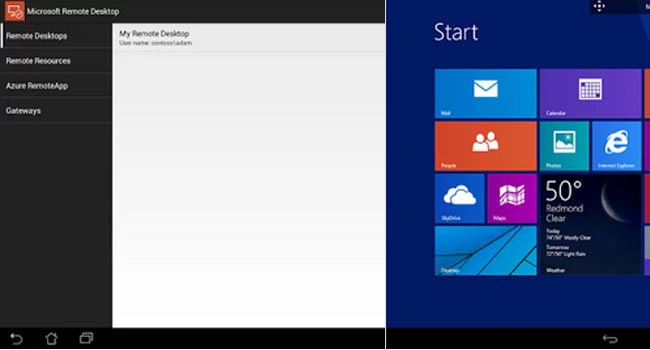 Microsoft Remote Desktop is a reliable and secure way which allows access to your work PC remotely. You can thus work from anywhere from your Android device. This also includes working on full desktop versions of Microsoft Word, Excel or PowerPoint directly from your Android smartphones or tablets. This app uses NLA technology to establish a secure connection with its interface being user-friendly and simple. 
Get it on Google Play
5) Camcard
Camcard is a business card reader app that allows snapping and saving a picture of your business cards. It automatically adds the information to your smartphone's contact list along with syncing it with all your devices and web applications. It thus helps you find details of any business person at anytime from your Android device. This app allows you to share cards through email, QR code and on social platforms. You also get updates of your business contacts helping you keep in touch with customers. 
Get it on Google Play
6) Skype
Skype is a well-known and widely used free instant messaging and video calling app. You can easily connect to your employees or clients remotely by having a video conference. You can even share your photos, make calls to mobile and landlines at low costs, view presentations of your colleagues, have a group chat and do much more through Android Skype app. Due to its flexibility, it allows you to connect with users on all the devices. You can thus carry on your work even when you are away from the office. 
Get it on Google Play
7) Google Calendar
With an intuitive interface and full integration facility with other Google applications, Google Calendar is considered to be one of the best calendar apps for business users. You can view your schedule with maps and photos along with getting auto alerts and reminders in your Gmail account. You can create, edit and delete events along with the facility of your events getting automatically added from Gmail. It also has a built-in to-do list keeping you continuously updated of your next task. 
Get it on Google Play
8) Google Drive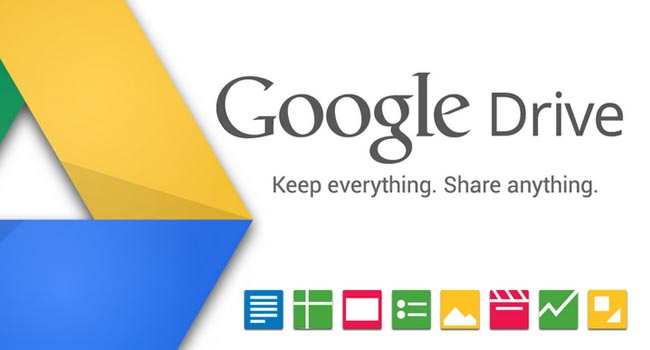 Google Drive is Google's Cloud storage platform helping Android users to easily access their files and document on the move. You can upload files directly from your android devices and even share them with others. In case of collaboration with team, everyone can access the files at the same time along with viewing edits done by any team member in real-time. Documents added or edited will be uploaded to the cloud automatically. All your files in the drive are backed-up safely with the facility to view files in offline mode also. 
Get it on Google Play
9) File Manager (Explorer)
File Manager is one of the most useful Android apps for businesses to keep things organized and tidy in your smartphones. It has simple search facility with a user-friendly interface to help you view your files in list/grid display options, see thumbnails for your videos and photos, share your files, edit them, compress to free space and do much more to help you manage stuff in your Android Smartphones properly.
10) SwiftKey Keyboard
SwiftKey Keyboard app has been designed for those business users who want to cut down their time in typing. It adapts to your way of writing, suggests emoticons while typing to match your words, gives words suggestions, auto corrects typo errors and spelling mistakes, helps you customize the look and feel through various themes, allows you to adjust your keyboard to fit your needs and helps you to sync your writing style to the cloud, thus assisting in effortless typing. 
Get it on Google Play
11) LinkedIn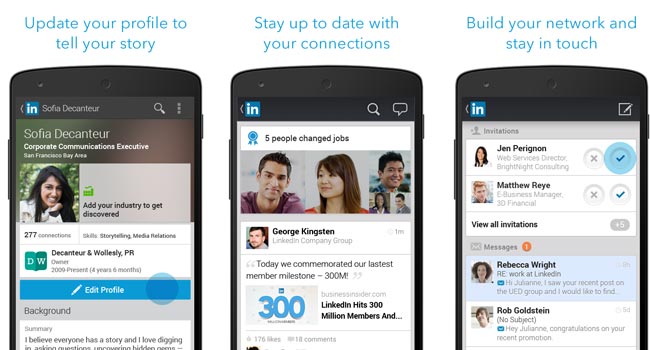 LinkedIn Android app helps to establish the brand identity of your business, stay connected with other professionals and be updated with the latest industry news. It helps you to follow business tycoons and seek advice and inspiration from them. The app allows you to create, update and view profile helping you build your brand while on the move. The app also helps you in posting jobs and hiring professionals to take your company ahead. 
Get it on Google Play
12) CamScanner
CamScanner is one of the best mobile document scanning and sharing apps that acts as a scanner and turns hard copies into high quality PDFs allowing to save them in Android devices and send to concerned parties through email. It also has sharing facility where documents in PDF and JPEG format can be posted on social media. Its collaborative features help your colleagues to view, comment and share their ideas on the documents through groups. You can make annotations; quickly find documents by searching through keyword, set passwords to protect your document and sync documents across various platforms using cloud storage. 
Get it on Google Play
13) Expensify
Expensify is a great app for Sales professionals and businesses that captures receipts, scans them and creates an expense, thus eliminating the need of manual entry. You can create and edit expenses from anywhere; enter hourly rate, total time worked & distance and sync your cards through Expensify. You can use this Android app in offline mode too. It supports multi-currency and facilitates auto conversion of currencies. You can thus manage your expenses on the go with expense reporting made easier. 
Get it on Google Play
14) Locale
Locale's advanced artificial intelligence helps you to manage settings of your Android device where your ringer switches to silent mode, your wallpaper changes and Wi-Fi gets switched on as soon as you arrive at your workplace. It thus helps you to customize your smartphone's settings based on your location and time. It automatically closes down those apps and components which suck battery power at the time of low battery and also gives you reminder to charge your smartphone. 
Get it on Google Play
15) Square Register
Square Register app is beneficial for businessman to accept payment via credit card through your Android device from anywhere and at anytime. With a user-friendly interface it processes all major credit cards including American Express, Mater Card, Visa and Discover with 2.5% per swipe. The credit card processing is done safely and your payment gets transferred within 1-2 business days. This Android app gives boost to your sales, allows you to send items receipt through emails or messages and gives real-time access to sales data. 
Get it on Google Play
16) TripIt Travel Organizer
TripIt Travel Organizer allows you to organize your business trips, creating detailed itineraries for you and making your business travels easier. You can even share itineraries through email or social media. It will give you directions, guide you through maps and update you with weather conditions for each destination. It also allows editing travel plans manually from your android device and syncs them to Google Calendar or Outlook. Premium users get access to real-time flight alerts, flight finders, seat trackers, refund notifications and more, thus making air travel convenient. 
Get it on Google Play
17) MailWise
MailWise is a fantastic way to organize and manage your emails on your Android device. You can get all your mails of multiple accounts like Outlook, Gmail, Yahoo, MSN, AOL, Hotmail and more in one app. It has quick email search facility that helps you to find any of your old mail within a fraction of seconds. It is safe and secure; and optimizes your inbox to give it a sharp and sleek look. Your mails are arranged in the form of conversations with repetitive information hidden including signatures, headers and more. It has a user-friendly UI allowing you to group email threads together and transforming messy emails to clutter-free conversations.
Some Essential Business Mobile Apps developed by Semaphore Software 
nPad is a cloud based note taking mobile app helping you to capture your business ideas while on the go. Its auto-sync with cloud feature saves you from losing your important notes. You can personalize your notes, manage them in folders, encrypt using password, easily share notes, access them in offline mode and more thus helping you to jot down every single idea and organize your thoughts. 
learn more about nPad on Google Play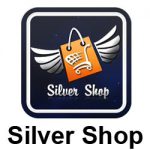 Silver Shop helps your Magento Stores to extend themselves on all leading platforms, providing exquisite m-Commerce experience. It auto-syncs with your Magento Store and is integrated with payment gateway for easy checkout. It will give your customers the power to use their smartphones to shop from your Magento store; giving them a world-class shopping experience and helping you grow your business.
OneSocial app has been designed to help manage all major social networking platforms like Facebook, Twitter, LinkedIn, Instagram and more at one place. You can get updates from all your social networking sites in OneSocial without opening different apps. Businessman can save their time and stay connected with their network through a single app.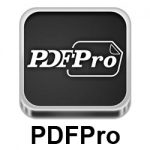 PDFPro is a PDF reader mobile app which helps PDF management easier and has features like editing,sharing, annotations, signature, sticky notes, audio & text notes, efficient search and more. It will make e-reading experience for users enjoyable and will help businessmen to organize their PDFs, personalize them and work on PDF documents while on the go. 
learn more about PDFPro on app store
You can't take full advantage of your Android smartphones and tablets until you don't have some of the essential mobile apps that help you in your business proceedings. Being a leading 
Mobile App Development Company
, Semaphore Software holds proficiency and expertise in developing mobile apps for businesses including
enterprise mobile apps
. Want to know more about our Enterprise Mobile App Development? Please get in touch with us!!