Why Your Business Needs Enterprise Mobile App?
Mobile devices have all of a sudden become very important in everyone's lives and we are finding it increasingly difficult to stay away from them. Smartphones and other hand-held devices are also changing the way businesses work. If on one hand the trend of BYOD is becoming popular, on the other hand, businesses are busy offering enterprise mobility solutions to people. There is also no denying the fact that
enterprise mobile app development
is boosting the revenue of businesses exponentially. That's also the reason why numerous small and medium businesses are joining the bandwagon and offering niche apps to their customers. If you are thinking about developing an enterprise mobility app, having answers to the following questions will tell you why an enterprise app is helpful for your business.
Does Your Business Need the App?
There are basically two sides to this coin. The first side is really about the need of the business app. Are you building a business app because everyone around you is doing so? The flip side of the coin, the more important point, is does your business need this app? Basically you need to have a very good reason to build the app. For a retail business, it makes sense to have an app that helps bring customers close to their products and services. However for a B2B company, a business app may not help at all.
Do You Have a Purpose in Mind?
Even if you have vaguely realised the role an app can play in your business, you should be able to identify the purpose of the app distinctly. The best way to do so is to have a mobile strategy in place. A mobile strategy will tell you in facts and figures how your business will benefit from the app. The strategy will also identify the reasons why your business needs the app. It can also underline ways of monetizing the app. It is equally important to identify the targeted audience demography and tailor-make the app to meet their needs.
Does The App Bring in Revenue?
Although we have passingly mentioned about the importance of monetizing the app, let us stress on its importance here. You have to find a way to monetize the app, period. One of the common tricks in the book is to release a free version of the app and pack it with cool features; don't forget the catch though. Ensure, most of the features are available with the premium version only, so that the users pay a certain amount, and you are able to monetize with the app. Placing ads within the app is also another method of monetizing, though not a very wise one.
What Platform Will Run the App?
There are many mobile operating systems that make the mobile application market highly fragmented and competitive.The right platform will take your app to the right customers. Once again we stress on the importance of having a mobile strategy in place. Semaphore Software has a dedicated team of
Mobile App Developer
for enterprise mobile app development. You can get in touch with us through 
info@semaphore-software.com
 and discuss your plan with us.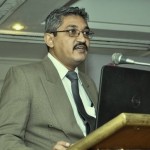 About Himanshu Chudasama
Himanshu Chudasama, an eloquent professional, and an experienced leader, has a deep knowledge in different segments of information technology particularly Web and Mobile Based applications. With a vast experience ranging from project development to management to acquiring and retaining clients, Himanshu Chudasama has acquired both experience and expertise along the way. His love for reading, a strong observation power, and experience ranging in different sectors and industry verticals, help him give out optimum IT driven solutions.