"Aaple Sarkar" Maharashtra State Government's Grievance Redressal Website & Mobile App Developed by Silver Touch, Receives the ELets Award for "eGovernance Initiative of the Year"
The Maharashtra State Government, Government of India, was awarded for its Exemplary Initiatives & Innovations to Address Public Grievances through its Portal and Mobile app namely "AAPLE SARKAR" in eINDIA Summit 2015.
May 22, 2015 – Goa, India – Elets Technomedia in association with the Department of Information Technology, Government of Goa, India, organized Elets Knowledge Exchange-Goa 2015 Summit on 21, 22 & 23 May, 2015 at Hotel Marriot, Goa. It was supported by eGov, Asia's premier magazine on ICT in Governance. The event served as a platform for knowledge exchange between the key stakeholders who are active in the fields of Governance, Urban Development-with Special Focus on Smart Cities, Education, Health and BFSI.
'Aaple Sarkar', the Maharashtra State Government's portal and mobile app to address public grievances bagged the National Award for "eGovernance Initiative of the Year" in the ceremony. E-Governance Initiative of the Year award is given to the organization that has taken initiatives in encapsulating the finer points of Governance, such as citizen centricity, service orientation and transparency through technology.
The Aaple Sarkar portal and mobile app is monitored by the Chief Minister's Office (CMO), built to address the grievances of the citizens and to allow them to participate in the discussions on the development of the state. The platform provides the necessary transparency for direct connection between the Government of Maharashtra and the Citizens.
This platform has been designed and developed by Silver Touch and consists of three components: Mobile app, Portal and the backend system. The mobile app has been developed for three leading platforms: iOS, Android & Windows. The portal is built on PHP and uses the Drupal framework. The back-end system of the solution is managed by the Super-admin, who can view the grievances and suggestions received from the citizens. The super-admin checks if the grievance is "Mantralaya or Non Mantralaya" specific and then assigns it to the concerned department, state, district or division.
It is a one stop solution for the citizens to seek redressal of their grievances, which are filed under appropriate category and are given a token number. The token number can be used to track the status of the grievance. The platform coordinates and monitors redressal of issues related to general public services and working of any minister's department. The registration of the portal/mobile app is done using email Id and mobile number, making it possible for the citizens to use any of them alternately to post grievances/suggestions.
On successful lodging of a grievance, an e-acknowledgement is auto-generated by the system. The citizen receives an update stating that his grievance is "in progress" once received by the department. After the grievance has been resolved by the concerned department, the citizen receives a notification informing him about the same and asking him for his feedback.
About Silver Touch
Silver Touch Technologies Ltd. an offshore web development company and a global IT solution provider, offers a wide range of IT services focusing on Software Development, E-Commerce, Web Design & Development, Search Engine Optimization, Mobile Application Development, IT Infrastructure Management, System Integration, Network Management, Portal Development and more. Accredited with CMMi5, ISO 9001:2008, ISO 27001 and ISO 20000 certifications, it delivers comprehensive software solutions and services of utmost quality by adopting the latest technologies. Headquartered in Ahmedabad – India, it has business development centers at various locations in India including International Centers in US, UK, Australia, France, Sweden and Germany. Having served a broad spectrum of industry verticals, it has bagged many prestigious awards. For more information, visit us at www.silvertouch.com
About eINDIA 2015
Elets Technomedia Pvt. Ltd, in association with the Department of Information Technology, Government of Goa, organized 11th version of eINDIA Summit, Awards & Exhibition on 21, 22 & 23 May, 2015 at Hotel Marriot in Goa. It is a unique platform for sharing knowledge, challenges, ideas and best practices amongst the various stakeholders driving ICT initiatives in the domain of Governance, Education, Healthcare and Banking & Financial Services. The conference had four major tracks focusing on e-Governance, Digital Learning, e-Health and Banking & Finance. The summit also provided a platform to acknowledge and showcase exemplary initiatives and innovations through Awards, Exhibition and a special issue of eGov magazine.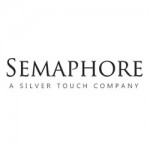 About Admin
Semaphore; A Silver Touch Company has been offering extensive range of services such as Mobile App Development, Website Development, Custom Software Development, Agile Development, Product Development & Support, Legacy Applications Re-engineering, Networking & System Integration services , Data Warehousing & Business Intelligence, Web Design & Multimedia Services and Business Process Outsourcing to the client spread all over the globe. It has been accredited with labels of CMMI 5, ISO 9001: 2008 and ISO 27001 Certification for observing international standards while offering customized solutions.