5 Skills Every Mobile App Developer Should Have
Mobile apps have become an area of extreme interest for businesses around the world. Irrespective of the industry they are in, businesses are fast realizing the huge potential of mobile applications. It doesn't merely allow them to connect with their customers but also helps in increasing sales and revenue. If the first decade of this century was about web development, the present one is surely about mobile apps. To get the best out of your project, you need to hire a seasoned mobile app developer. Here are five skills that you should look for in a developer before hiring him/her for your project.
Market Foresight
The mobile app development market is constantly evolving as user expectations change. A seasoned app developer should be able to read into the emerging trends in the market and design apps that match the expectations of the customers. He/she should keep a tab on the app development ecosystem across different industries and how apps are becoming ever more informative and engaging.
Native Development Skills
Let's put it straight we hear a lot of talk about cross-platform development but, the fact is in the last few years native app development has become more of a desired skill. Android and iOS are the two leading mobile platforms in the world with Windows and BlackBerry constantly losing their market share. By the last quarter of 2015 iOS and Android have 96.7% market share between them which stood at 86% in 2012. In such a scenario most businesses are focusing on iOS and Android development. Native app development skills allow developers to derive the best features and functionality out of aplatform.
Technical Knowledge
SDKs (Software Development Kits), Design Tools and Simulators are used in various stages of app development. The developer you hire should have sound technical knowledge and expertise in using these tools. These tools and software reduce the turnaround time of your app development project and also ensures that they follow the best practices in the industry.
Programming Languages
At the core of any good app are codes that define the different features and functionalities of apps. Naturally, complex app involves thousands of lines of coding. Good developers should be well-versed in modern programming languages that power these apps as this allows them to develop apps that are bug free and solve the niche problem of their business.
UX/UI Design Skills
Good design and user interface is at the heart of any mobile app as it engages users and attracts positive reviews and downloads. This is the reason User-Experience and User-Interface are so highly rated when it comes to app development. A good developer would be able to work on a unique design and improvise the idea of his/her client. As more businesses are turning to apps to increase productivity and reach out to their customers, the market is getting competitive. To emerge victorious you need to
hire mobile developers
who bring in expertise to the table. We at Semaphore Software have been in the forefront of
mobile app development
and have served businesses across industries. If you have any queries about our services write to at 
info@semaphore-software.com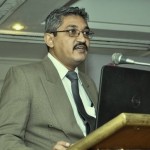 About Himanshu Chudasama
Himanshu Chudasama, an eloquent professional, and an experienced leader, has a deep knowledge in different segments of information technology particularly Web and Mobile Based applications. With a vast experience ranging from project development to management to acquiring and retaining clients, Himanshu Chudasama has acquired both experience and expertise along the way. His love for reading, a strong observation power, and experience ranging in different sectors and industry verticals, help him give out optimum IT driven solutions.