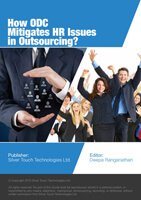 Setting up a dedicated offshore development center needs a complete understanding of the human resources requirement. The HR needs for ODC is completely different from that in outsourcing. This book introduces you to the issues related to HR that you may face when outsourcing, and how offshore development center helps negate the issues.
Included in the e-Book are:
Issues related to HR in outsourcing
Risks involved in setting up HR in outsourcing
How ODC is beneficial?
You just need to fill up a form to get the guide!