WP Time Machine Plug-In helps You In Retrieving Your Data
With tremendous growth in technology, and advent of internet, it has been recognized as one of the most cost effective and time effective forms of advertising available ……. and trust me ….it the biggest boon that has been developed by mankind . Within a short span of time any individual can reach masses through his or her well made website, and attain the desired goals. This is the reason why one can found millions and trillions of website floating around the world wide web consortium. When it comes to choosing a Content Management System for your online presence is really a tough task…. All the options available on internet are having advantages' and disadvantages' of their own, as There's no one-size-fits-all answer here; it depends on your aspirations and aims, technical expertise, budget and what you need your site to do. For a simple blog or brochure-type site, to a well made website, whatever the objective is, WordPress CMS Development is immensely popular among developer as well as designers for developing an awesome and vibrant website meant for any purpose.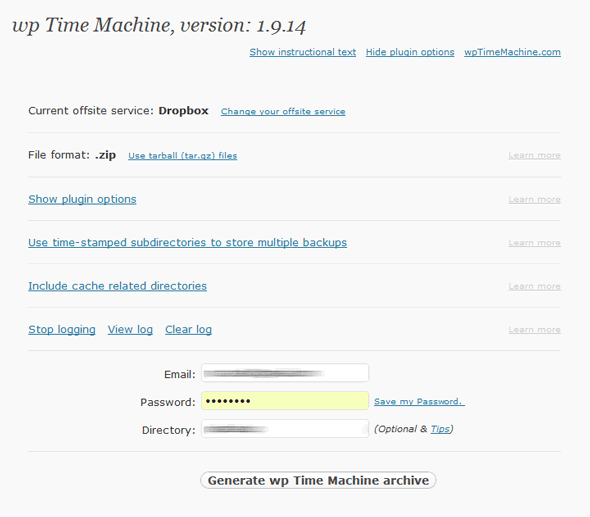 As we all are aware that when it comes to website, content is an investment, still so far Word Press blogs are never backed up at all, leaving them wide open to data loss from hacks, vulnerabilities, and faults at the hosting company. When it arrives for back up, most of us could be more diligent and smart but arranging backups take time. The best part of Word press is that for every draw back they have a solution for it. Dedicated and rich Word Press development Community through their efforts have taken out the solution for this draw back through a plugin named WP Time Machine, and once integrated to your system, creates an archive, of all of your Word Press data as well files, and then stores them either into drop box , or Amazon's S3 or your FTP host.
In case of any fall out this awesome plugin creates archives of all your Word Press data as well as files and makes it sure to store remotely. The remote storage facility is as The entire data of website Files as well as uploads that is done in Word Press content .htaccess file of yours Commands and directives for smooth recovery Once you provide the remote account this versatile plug-in will provide a connection to the offsite facility of your choice As a website owner you have an array of attributes to make a choice as
Drop box
Data Can also be sent to Amazon AWS S3
FTP
Thanks to the cloud tools like Drop box, along with a series of plug ins that can create back up for Word Press has made this Content Management system a wider providing its users convenience to work
So, if you are planning to have a lively website with lots of advance features which can be controlled by the admin itself then Word Press will the best option to live up with. Choose a Web development service provider which has considerable experience in playing with features and functionalities of this solution while developing websites. Consequently you will be able to attain the purpose of your online presence worth. With plethora of web development centers floating around World Wide Web Consortium choose a one which fits your bracket of requirement.