New Windows Phone Features- A Guide
Windows Phone operating system for smartphones has been introduced by Microsoft with an objective to create a simple and easy to use UI/UX with innovative features. With these unique features Windows grab the smartphone market within a short period of time. That's the reason why Windows Phone App Development currently in movement. Microsoft developed a completely different user interface by introducing new design concept named "Metro" and also developed new functionality that was not provided by other competitive Smartphone os [new functionalities are discussed later in this article]. The aim to introduce Windows Phone was to target consumer market rather than enterprise market. Windows Phone OS was first launched in October 2010 with Windows Phone 7. Other versions under Windows Phone OS are Windows 7.5 Mango, Windows 7.5 Tango, Windows 7.8 and Windows 8. The latest version of Windows is Windows 8.1 lunched in June, 2014. In this article we are going to discuss major features and functionalities of Windows Phone. We will also focus current and future significance of Windows Phone as compared to other Operating Systems. Windows Phone was launched in the market with very unique and stunning features. Windows Phone acquired huge market in short period of time not only because of its features but also for easy native application development.
Major features and functionalities of Windows Phone OS:
Contemporary UI Design: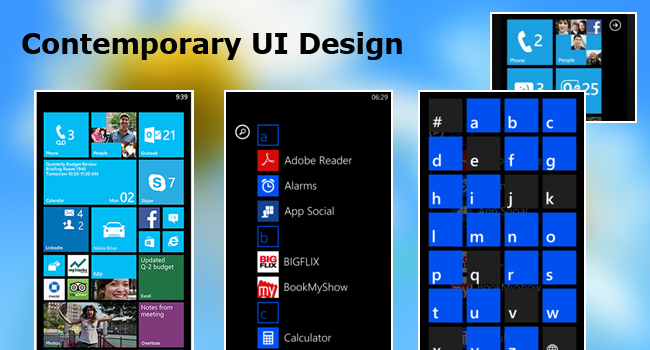 The greatest element that makes Windows Phone different from other competitive OS is its simple and remarkable User Interface design. The UI is developed based on concept of Flat designing. The Home Screen of Windows Phone contains all the shortcuts of the installed application with consistent design and easy search facility. Another striking feature of Windows phone is Live Tiles – provides up-to-date content or notifications of installed application on Smartphone.
Interface Customization: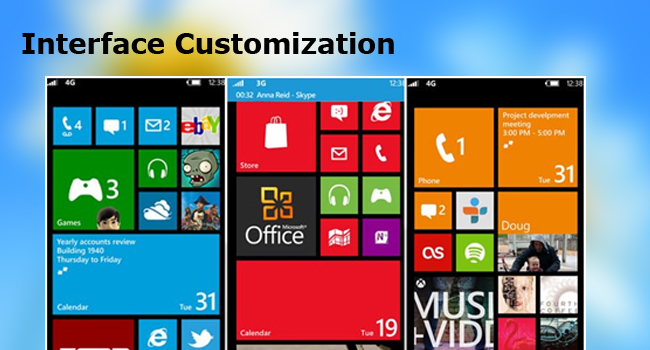 The Home screen icons and its position are easily customizable as per user requirement. One can easily rearrange the shortcuts of installed applications from home screen. The theme, background color and font size of the Windows Phone can be customized easily. Tiles can be resized by holding down on the home screen, or from within the apps drawer.
Make your own ROOM:
Creating a ROOM is again a major feature that makes Windows different from other Mobile OS. User can make a ROOM by adding contact persons and giving suitable name to it. After making a Room, you can share pictures, chat, make appointments, or broadcast your location to everyone inside the ROOM. You can create ROOM of Family, Friends, and Office/Colleagues.
Skydrive Integration:
Skydrive is the Microsoft's cloud-based storage that is well integrated with the Windows Phone. User can easily store photos, documents, and other data of his phone to Skydrive and access it from a PC or Windows 8 tablet (or vice versa). So it's easy to backup important documents and obtain back as and when required.
Multi Resolution Support:
Windows Application supports multi resolution functionality that gives the facility to develop an application for single resolution and it will be easily adjustable to another resolution. The size of the application is reduced by using multi resolution functionality.
Multilingual App Toolkit:
The Multilingual App Toolkit helps you to localize windows phone apps by providing translation support, translation file management, and editor tools. So now it's easy to create multilingual application with Windows Phone.
Maps and Navigation:
You can use maps on your Windows Phone to see where you are, find where you want to go and get directions from there. You can even reach to nearby shops or restaurants that might be of your interest, with review & ratings posted by other users.
Wallet:
Windows Phone 8 introduces the Wallet, which can be used for the following: • Collect coupons, credit cards, memberships, loyalty cards, and other information in one place. • Manage the payment instruments that they use in the app and music store. • Link items in the Wallet to apps on their phone. • Make contactless transactions using Near-Field Communication (NFC).
Near-Field Communication:
Windows Phone 8 introduces a new API, the Proximity API that you can use to create apps that does the following: • Send data between devices using NFC. • Use a phone to interact with NFC tags. • Establish a Wi-Fi or Bluetooth connection between your app and an instance of your app on a proximate device. If two phones have a Near-Field Communication (NFC) chip, app users can perform the above scenarios simply by tapping their phones together. All the listed and many more unique and amazing feature helps Windows Phone to cover large market space in very short of time. Not only the smartphone usage but also the number of applications developed for windows platform is increased. There are some statistics that shows how quickly the Windows Phone becomes a choice of thousands of users. As a leading
Mobile App Development company
, Semaphore Software provides custom Windows Phone application development service. We grab good experience in windows phone app development by developing featured and unique concept applications. If you are looking for develop Windows Phone Application,
contact us
now with your requirements.