Why Your Retail Business Needs a Mobile App?
As a retailer, are you worried about losing business to ecommerce? It is a concern shared by millions of retailers who are facing a tough challenge from these tech savvy shopping platforms. It's time to take online stores head-on with your own mobile app. In the last few years smartphones have changed the way we live, acquire knowledge and communicate. Millions of apps have brought in added convenience to our lives. For businesses mobile app development offers a unique opportunity to reach out to their customers, market their products/services and sell them. Retailers are now waking up to the numerous benefits that these apps offer taking them to a modern era. If you are wondering why your retail business needs apps, here are a few reasons that would change your mind.
Direct Marketing Channel
Are you still sticking to sign boards, brochures and posters to promote offers and latest range of products at your store? Well in today's age you need to switch to an app and create a direct marketing channel for your customers. Unlike printed promotional products, apps have a wider reach and also cut down on the recurring experience on such promotional campaigns. They also allow you to run flash sale campaigns that attract lot of sales these days. And the biggest plus – your marketing campaign would run 24/7 wherever the user carries his/her phone.
Offer Personalized Experience
The tastes and needs of each customer is different and with an app you would be able to get insights into their needs. Whether it's their love for a certain brand or eye for discounts, you would be able to get inside the mind of your customer. It also offers you the perfect opportunity to run a personalized experience for your customers. With an app you can keep the customers informed about the latest line of products based on his/her interests. This would add value to your relationship with the customer and earn his/her loyalty towards your store.
Increase Customer Engagement
Most retail stores would have little to do with a customer between his/her visits. This is a loss of opportunity which online stores have capitalized on by offering special offers to their customers, wishing them on birthdays & anniversaries. This engagement goes a long way in attracting impulse buys from the customers. You can't achieve this without an app. Also, follow-ups allow you to earn loyalty of floating customers.
Replicate The Online Experience
Have you ever wondered why customers around the world are patronizing online shopping? Apart from the convenience one factor that most customers like about online shopping is experience of shopping at one's pace and not being disturbed by sales executives. With an app, you would be able to offer them the same experience and prevent erosion of your customer base. If you are planning to hire a
mobile development company
for your retail store's app, we at Semaphore Software would offer you maximum return on investment. We have developed apps for small and big retailers around the world and increased their sales and profits. A great opportunity awaits you! To know more write to us at 
info@semaphore-software.com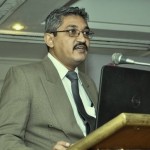 About Himanshu Chudasama
Himanshu Chudasama, an eloquent professional, and an experienced leader, has a deep knowledge in different segments of information technology particularly Web and Mobile Based applications. With a vast experience ranging from project development to management to acquiring and retaining clients, Himanshu Chudasama has acquired both experience and expertise along the way. His love for reading, a strong observation power, and experience ranging in different sectors and industry verticals, help him give out optimum IT driven solutions.